Asking business leaders to rate the effectiveness of their marketing organizations is a bit like removing foxtails from your socks after a long hike or extracting them from the paws of your favorite canine after outdoor play. You have to dig around to find them and then exercise great care in taking them out.
Well, we just completed that exercise with 120 executive business leaders who are active in the C-Suite Network, the Harvard Business School Association, and the Business Performance Innovation Network. To be honest, we were pleasantly surprised with the results.
Our C-suite marketing scorecard report happens to coincide with the release of end-of-school year grades and the celebratory Father's Day. The fabled, annual "Dads + Grads" promotional sales period in North America is often the time marketing is making a compelling case for H2 expenditures to continue driving business growth. So, how well did marketing do in this year's assessment of business leader satisfaction?
Among the findings of our research was the disparity in management views of the marketing function in large companies with more than $500M in revenue versus those with less than $500M. Most notably, there is a higher level of confidence in marketing's ability to lead growth and recovery in smaller enterprises and greater degree of interaction between marketing and business teams.
Related: Download the "C-Suite Scorecard"
In larger enterprises the CMO is overwhelmingly seen as the "customer experience advocate and champion" in contrast to "brand reputation custodian and value creator" in smaller enterprises.
Management in larger companies sees the modernization and automation of the global marketing function as a big requirement to address as opposed to attracting more technically savvy, digital talent and making better data-driven decisions in smaller companies
This year's study was sponsored by our good friends at Chief Outsiders. They do a great job of provisioning interim marketing leaders. Given the turnover of chief marketing officers reported breathlessly by executive recruiters (who fill these holes), the demand for a "try before you buy" or interim leader to bolster the marketing bench appears to be gaining momentum.
Despite the "limited" shelf life of CMOs, the C-Suite Scorecard revealed that marketing is in relatively good standing with management and functional peers. We compiled a report grading the performance of marketing teams and identifying where marketing organizations can do a better job to improve capability and fill holes.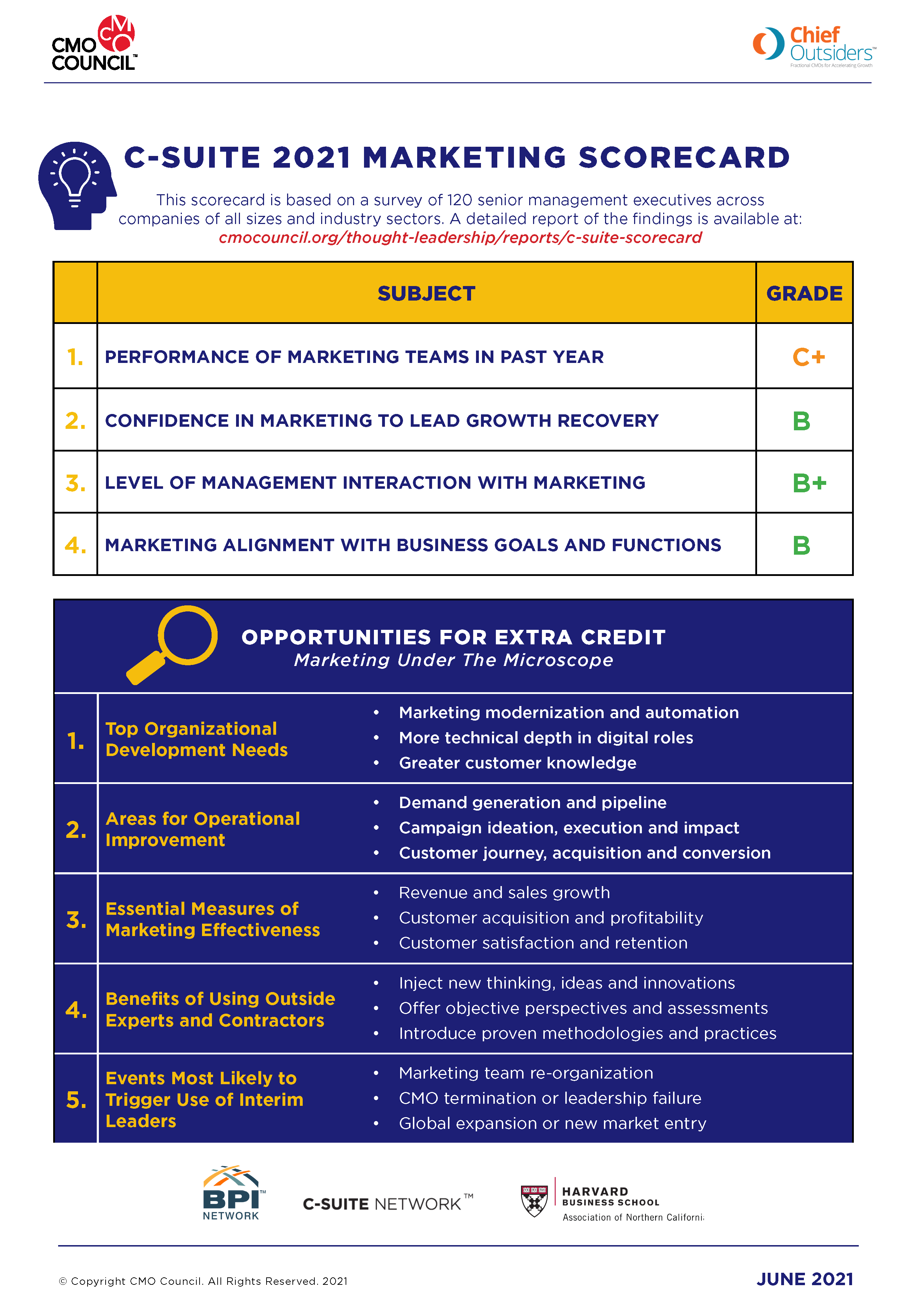 Related: Download the "C-Suite Scorecard"
Related: Get ahead of the disruption! Become a CMO Council Member today!
Donovan Neale-May is the Founder and Executive Director of the CMO Council, the Growth Officer Council (www.growthguidancecenter.com), and the Business Performance Innovation (BPI) Network (www.bpinetwork.org), a global community of executive change agents driving business reinvention, IT transformation, and process improvement across the enterprise.