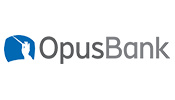 BRAD DAVIS
Chief Marketing Officer and Executive Vice President
Opus Bank
Value creation plays a large role internally for Opus Bank, a commercial bank which was founded in 2010 and is now among the top 200 of the nation's more than 6,700 banks after completing a successful IPO in 2014, as measured by its $5.1 billion in assets. Creating a brand personality and helping team members understand how to create value for clients requires commitment, and CMO and Executive Vice President Brad Davis says that at Opus Bank, value creation truly is everyone's job.
Davis says that instead of focusing on the company's mission, vision and values, the firm focuses on purpose (how do we serve our clients?), process (how do we fulfill our purpose?) and people (are we hiring to the brand?). From the time they interview employee candidates, it is clear that the culture of the company is something that is highly regarded and dutifully upheld both internally and externally with clients.
"We receive consistent feedback that our brand persona was a key factor in candidates' decision to interview with the firm, and we also hire to the brand, meaning that we seek people with the abilities and experience we require [cost of entry] and then assess for characteristics specific to fulfilling our expectations for client engagement," Davis says. "We firmly believe that you cannot be clear and aligned externally until you are clear and aligned internally, which means that everyone must understand the behaviors and qualities that are essential to fulfilling our USP and creating genuine value for our clients."
In order to uphold this commitment, Davis says that the management and executive teams have weekly engagements to assess expectations relative to their clients and to measure client satisfaction and fulfillment levels. After significant client engagements, key members of management are required to assess their performance by determining the value that was created for the client and then recapping the value for publication both internally and externally.
As an organization, the bank engages directly with more than 150,000 successful entrepreneurs and business leaders each year at events, private roundtables and private-label symposia. Therefore, it is critical for all employees to be aligned around the key cultural factors that set the organization apart and exude these characteristics to clients and prospects.
"We engage with people one-on-one versus through traditional advertising, so it is important for us to be able to project an image that is consistent with our brand values and drives a positive client experience at every touchpoint," he says.