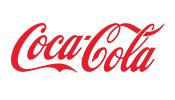 BRAD TAYLOR
Vice President of Customer Marketing
The Coca-Cola Company
The Coca-Cola Company's overall digital marketing strategy is to engage with consumers wherever they are and on whatever device they may be using. As a result, mobile is playing an increasingly important role. Vice President of Customer Marketing Brad Taylor says the company leverages multiple apps and is testing e-commerce solutions to provide additional functionality and engagement opportunities for consumers.

The Coca-Cola Company uses the phrase "liquid and linked" in reference to its content-driven marketing strategy. Their content is linked to their brand marketing strategy, and they inspire consumers to help make this content "liquid," meaning it travels the globe quickly. Mobile further enables the effectiveness of this goal as the company utilizes all digital platforms to connect with consumers.
"Our new Coca-Cola Freestyle is a fountain innovation that dispenses more than 125 different branded beverages of the highest, freshest quality, and mobile and social are playing an important role as we unveil that across the country," Taylor says. "We also have a PUSH! + Play app that enables consumers to locate the nearest Coca-Cola Freestyle machine to them, view all of the different beverages, and provide feedback on the drink they dispense. We're also looking to add geo-fencing functionality to that app so we can do more targeted mobile marketing."
The company is also venturing into e-commerce by leveraging mobile technology and vending machine technology to enable consumers to buy Cokes using their mobile devices as payment. The Coca-Cola Company has a partnership with Google Wallet to test the effectiveness of these mobile payments.
While mobile has a broad reach, Taylor says 40 percent of people in the U.S. still do not have smartphones, which means a number of consumers aren't benefiting from the company's mobile investment. Furthermore, many food and beverage retailers don't have the functionality to accept mobile coupons, which are very popular among consumers. However, as the company continues its mobile strategy, Taylor says the focus remains on inspiring customers to engage with the brand.
"We want our customers to generate their own content and share it with their networks because that really does the marketing for us," he says. "This strategy has been very effective in social media and will hopefully extend to mobile as well. We view mobile as the future, and that bodes really well for us because we can engage our consumers with messaging that will inspire them to consume more of our product, no matter where they are."