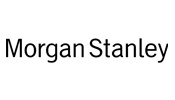 BRYAN VANDYKE
Head of Digital Strategy
Morgan Stanley
When it comes to using data to create better customer engagements, Morgan Stanley aims to deliver the kinds of experiences that anticipate its clients' needs and resonate with them in a compelling way, in addition to creating products that exceed their expectations. For Bryan VanDyke, Head of Digital Strategy for the company, the greatest challenge is delivering on those customer expectations while also differentiating the brand as a leader in the financial space.

Morgan Stanley's various departments all collect a lot of data, some of which can be can shared and leveraged to improve the client experience. The challenge is isolating relevant signals from all the data streams and figuring out how to weave them together into targeted messaging for customers.
"We are able to identify customers in real time and deliver distinct experiences to them within both authenticated and unauthenticated environments," he explains. "As a result, we can then take data about an individual and use it to segment them and deliver content that is unique to that segment. For example, if a Wealth Management client uses our unauthenticated external website, we might deliver a message about our home loan products, which are only available to clients. We also use personalization on a campaign basis on our proprietary sites."
Consistency in delivering on the brand promise across all touchpoints is an endless journey, and VanDyke says this is an area of continued investment for Morgan Stanley. However, when it comes to delivering on what customers want, the area of focus depends on both the customer and the moment in time.
"We have customers within our institutional business, for example, for whom speed is perhaps the most important attribute of the service that we bring to them, so we have to be aware of who they are and what they expect and be able to deliver on that quickly," he explains. "We have the capability in a lot of the right places, but we have to continue building because customer expectations continue to rise. I don't see that changing anytime in the future."
To deliver customized experiences, VanDyke says Morgan Stanley has had to find ways of connecting various data points from across its businesses while maintaining absolute security for client data and compliance with regulations that define bright lines between its businesses. That includes finding internal partners who can store the data and keep it secure.
Making sense of how to use all of that data is critical. Given its size and breadth of divisions and teams working in both digital disciplines and marketing as a whole, Morgan Stanley has a large number of automation, engagement and intelligence platforms in place. The data flow from an array of sources and platforms can take many different forms.
"Anytime we consider adding or removing a technology solution, we try to conduct a cost-benefit analysis," he explains. "For a certain period of time, it may make sense to continue leveraging a platform that we already have in place, even if it isn't the newest shiny toy on the market. We have preferred solutions that we are trying to move toward, non-preferred solutions that might make sense from a business perspective, and others that we are trying to retire. The 'rip and replace' process isn't ideal to me because it's costly and draining on our teams, so it requires a great deal of analysis for us to make that judgment call."
From a customer engagement perspective, Morgan Stanley is constantly assessing what content engages website visitors and feeding that information into its personalization and targeting systems. The next step would be to fully automate that process. However, within their space, VanDyke says they try not to rush into models that involve a lot of complexity until they understand the benefits for the company.
When it comes to taking action based on the insights that Morgan Stanley gathers about its customers, the length of time involved tends to vary based on the type of response it wants to create. A response can take anywhere from a few hours to a few weeks.
"Right now, we're in the middle of a significant update to several different systems that deliver the end user experience, which will give us the capacity to deliver the high-quality experiences that our customers expect at every digital touchpoint," he says. "In late 2017 and into 2018, we're going to be seeing more of those experiences coming into the marketplace to better engage our customers and continue to grow the perception that we know how to move at the speed of our clients."