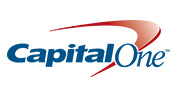 CAROLYN MCCARTY
Vice President of Marketing–Commercial and Small Business Banking
Capital One
Capital One takes great pride in its knowledge and understanding of customers and has developed differentiating strategies for taking products and services to market for its various customer segments. Carolyn McCarty, Vice President of Marketing for the company's Commercial and Small Business Banking sector, says they never claim successes too early and keep a constant watch on the market and their competition in order to refine their efforts and best meet the needs of their customers.

Small business is a very important segment for Capital One, and McCarty says it is critical to ensure they create products and services to meet the needs of this unique group. In addition, they work to recruit talent that understands their specific needs.
"Small businesses are relying more and more on their financial service providers, and if you can meet their needs in a way that shows these customers that you're an authentic partner, it can be a very rewarding segment," she says. "It's important for us to be there for them not only during the good times, but also to show them that we are a loyal partner during tougher times, such as the recession. We've really focused on how we can help small businesses grow as they come out of those leaner years."
In order to gain insights around small-business customers, McCarty says the company uses some proprietary methodologies to look at the drivers of choice and loyalty in order to help identify ways to differentiate their offerings. They also look at the segment from all angles and try to take both an aggregate and personalized approach to meet their needs.
"In many ways, this segment has a homogenous set of attributes to consider when targeting them, but they can also be very non-homogenous when it comes to the specific needs that drive their choices," she says. "Some small businesses are very seasonal, so we like to go to market in a way that truly reflects our understanding of the cycles a small business endures. We are currently on a journey to determine which metric and which framework to apply at any given moment along the customer life cycle to drive deeper, long-term relationships."
As technology continues to change the banking landscape, McCarty says they have also had to adjust their mindset in targeting these customers. While they have traditionally thought of them as needing a much more hands-on approach, they are seeing many more customers in this segment use automated tools and processes, and this is changing how they cater to them.
"We are very much freeing ourselves from this mindset and acknowledging that small businesses are very pressed for time—more so than any other segment we serve right now—and we want to make things very simple so we aren't another item on their to-do list," she says. "We are working to strike the right balance of where we need to provide and leverage automated and online tools and where we can ensure they have the support they need when they need it."
In terms of differentiating itself in the market, Capital One is perhaps the only financial services company that has a unique sub-brand dedicated to small businesses. As a result, any product that is created with this segment in mind will carry that branding.
"Two examples of solutions that are coming out under this sub-brand are Spark Pay and Spark Business Checking," she says. "Spark Pay is a credit card reader enabling small business owners to take payments on the go from their smartphones, and our new Spark Checking products move our small business checking toward value and simplicity, making banking easier for small business owners. These are just a couple of ways we are trying to give customers more time in their day and build solutions around their needs."