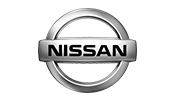 ERICH MARX
Director of Interactive and Social Media
Nissan USA
In 2011, Nissan USA's Director of Interactive and Social Media, Erich Marx, was asked to put Nissan on the "social map" and has since helped develop a successful multifaceted social program that includes brand engagement and social CRM via a wide range of social channels. Nissan is also exploring strategies to drive lead generation by recognizing and engaging what he calls "hand raisers."
To Marx, the most powerful social media campaigns are 360-degree programs that combine online and offline components and integrate the Nissan dealer network. In 2011, he was asked to put the carmaker on the "social map," although no one was quite sure what that meant at the time.
"Social media was seen in the same way that websites were viewed back in the 1990s—as non-traditional," he says. "Social really had to go through some growing pains to win a seat at the main table. That's something I still have to fight for today."
Automakers are doing a good job of integrating social into their marketing strategies, but Marx says they are dealing with a very different set of dynamics than many other consumer-facing brands. There's long purchase cycle with cars, with most people buying a new vehicle only once every three to five years, unlike brands such as Dunkin' Donuts that are often purchased on a daily basis.
With that being said, Nissan is experimenting with social efforts to identify and engage what Marx calls "hand raisers"—people who will identify themselves as interested in knowing more about a certain car or truck. The company is working with Moontoast's social activation engine and analytics suite to develop an effective hand raiser program. By putting out rich media content, such as sneak-peak views of new vehicles, Nissan can invite people on social media to raise their hands by clicking for information if they're interested in learning more.
"We haven't quite cracked that nut—and I don't know if anyone has legitimately cracked it yet—but we're trying," he says. "The theory for the last several years has been that social is about building relationships and is not necessarily transaction-based. But recently, we're starting to think there is an opportunity to drive some real business value through hand raisers."
Nissan is on all of the major social channels, including Facebook, Twitter, Google+, Pinterest, Instagram, YouTube and others. All play roles in the social marketing mix, but Facebook is still the number-one social platform for automotive.
"YouTube is huge, but in terms of offering the greatest opportunity for engagement, debate and discussion with fans, Facebook is still king," Marx says.
Social media is not just about brand engagement for Nissan. Increasingly, it's about managing customer relationships.
"The bigger impact of social seems to be evolving toward issue resolution and social CRM," he says. "Customers are expecting more and more that their voice will be heard and responded to quickly. A lot of people are using the social space to ask questions not just of the manufacturer, but of the community as well."
Marx considers Nissan a leader in social media within the automotive industry. While they don't spend as much on social as some competitors, he says that results from various third-party measurement houses show that Nissan's engagement is very high. They have leading response times and also lead in the percentage of customers to whom they respond on social platforms.
Nissan's view of building a social community revolves around authenticity and legitimate engagement.
"We would rather grow our social presence slowly and have a highly engaged audience as opposed to running a series of sweepstakes where we give away cars and huge prizes that attract millions of people who will never come back," he says.
In terms of measuring the success of their efforts, return on investment is a challenge that Marx continuously faces.
"Frankly, ROI is still a bit unclear, but I believe there's a significant COI, or cost of ignoring," he says. "At Nissan we have well over 1 million people who have engaged with us across major social channels and said this is how they want to engage with brands now. If you're not at least swimming in the shallow end of the social pool, I would say you're well behind where you should be. We're always looking for ways to measure what we do and determine the impact on our business. While it's a bit elusive, that doesn't mean there's no impact. We're absolutely setting KPIs for ourselves and trying to measure our progress."
One of the biggest lessons Marx says he's learned since taking over Nissan's social strategy is that it's all about the cars.
"Nissan does some wonderful things with Habitat for Humanity and the Heisman Trust to give back to young athletes and kids in the various charities behind the trust," he says. "As wonderful as that is, the engagement and interest levels we get in the social space spike for one reason only: It's when we talk about cars."