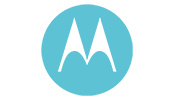 JUSTIN TURNER
Head of Global Channel Marketing
Motorola Solutions
Motorola Solutions works with its channel marketing partners to provide them with tools to differentiate themselves in the marketplace and successfully connect with their target audience. Due to the company's split in 2011, Justin Turner, Head of Global Channel Marketing, says they have a sharpened strategic focus, providing mission-critical communications to their government and enterprise customers.

The Motorola Solutions' PartnerEmpowerTM program was developed to deliver new and improved ways for partners to generate revenue and grow their relationship with Motorola Solutions. It has three tracks: radio, mobile solutions, and wireless. Each of these tracks has a number of segments depending on the product categories they contain, and these segments then have further specialization to categorize partners as authorized, specialized or elite specialized.
"Across the program, we also have metal levels, which are designated as silver, gold, and platinum and assigned to partners based on their number of specializations, overall revenue achievement, and customer satisfaction," Turner says. "We use specializations to enable partners to differentiate themselves in terms of technology to their customers, and the metal levels reveal their overall capability with Motorola Solutions across our entire portfolio."
In providing co-branded marketing materials, Turner says they use a third party tool, where partners can customize the content with their own address, logo, call to action, etc. They also have an image library that controls access to the images and the usage rights and a partner portal, where partners can find a wide range of rich content and materials to use in their campaigns.
"In terms of content, our greatest challenge is timeliness in the generation and localization of content for specific regional, language, and target customer requirements," he says. "Content relevance is key because we need to be able to target the right customers in the right markets while synchronizing that targeted content with the partners in terms of who they want to target. Generic content won't be impactful for the end consumer."
The company uses a SaaS tool called PartnerWizard that gives partners the flexibility to take content and email, print, and mail it after adding their logo and call to action. For email campaigns, they can also customize the subject line. The content then becomes co-branded for their audience while ensuring conformity and consistency with brand standards.
"Within each region, we have an editorial process to control who can communicate with our partners, and that is a very limited number of people in each region," he says. "In terms of brand compliance, we have brand guidelines for brand and logo usage, and our main way of controlling that is to conduct an audit when a partner tries to claim MDF or co-op for an activity to check for brand compliance and correct any incorrect behaviors."
Turner says Motorola Solutions has channel account managers and channel marketing managers who work with their partners to help in the execution process, which provides good visibility into their efforts. Furthermore, PartnerWizard provides reports about every downloaded item, including how often it is downloaded and by whom. They also have a range of pre-packaged marketing programs that partners can take off the shelf and deploy to help them target customers at different stages of the sales cycle. The programs range from Website Best Practice and SEO to Case Study Development and Telemarketing. In some regions, they can also capture consumer details if they buy into an initiative, and then use that information to follow up and pass on the lead to the partner.
"Once we have a consumer's contact information, we follow up with a phone call and can pass the contact's information along to the partner," he says. "That helps our partners dip their toes into more closed-loop marketing campaign activity and aids in lead conversion. We have a great model for this in Asia, but in places like Europe more stringent data protection regulations make this more complex. We're still working out the best way to do this in some regions."
Motorola Solutions also enables partners to work together by forging relationships to drive more successful solution sales to the end consumer.
"For example, if one reseller offers hardware and integration but an application partner has an application that really addresses the customers' needs, we can help them work together for the best results," he says.