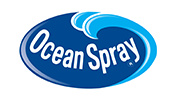 LARRY MARTIN
Vice President of Marketing
Ocean Spray International
Ocean Spray's Vice President of Marketing, Larry Martin, feels very strongly about the need for the agency and the brand to be true partners working toward a common goal. As a result, Ocean Spray's agency relationships are true testaments to the level of success a brand can reach when the agency relationship remains strong.
Martin explains that the brand's longstanding relationship with its advertising agency has proven to be very effective in terms of the quality of advertising they produce. They continue to work together to build upon that success, and they don't have plans to deviate from the current setup in the near future.
"We are going to continue building on this platform that has worked so well for us over the last four to five years," he says. "We will fine-tune communications and the overall strategies to make them more effective, but we have achieved great results thus far. "
The company has been somewhat challenged by the economic environment, as retailers who sell the brand have brought in less business. As a result, Martin says Ocean Spray makes efforts to increase its focus on better communicating to consumers what makes the brand stand apart from others.
"The creative itself is evolving, but we are facing an environment where we have to be more focused around the money we spend on agencies, creative development, and production," he says. "We continue working together effectively as a team, and the agency partners really understand the challenges we're facing and work hard to bring solutions to us, not just respond to our needs."
In light of the strength of these partnerships, Martin explains that the challenges the brand faces surround issues like being frugal with their investments in these resources, a need that he attributes to the current state of the marketplace rather than any shortfalls of the agencies.
When evaluating the effectiveness of the company's agency partners, Martin says they conduct a relatively formal annual review through which the agency's performance over the last year is reviewed, and a system is in place in which the agency is held accountable for their contribution to the brand's results.
"We have a metric in place that measures their performance as part of our overall success," he says. "As a result, they are held accountable just as we are, and they receive bonuses in addition to the monthly fee we pay them based on these evaluations."
Ocean Spray also utilizes a monthly scorecard to provide continuous monitoring on the digital side, in addition to subscribing to research methodologies to track the effectiveness of the brand. Keeping a close watch on performance periodically helps the company determine where modifications need to be made.
"We continually challenge ourselves to find new solutions that are relevant to the market today, and we are willing to evolve and manage the relationship as the business requires it," Martin says. "I've been told we have a very unique approach to how we operate. I believe this speaks to why we have great advertising and why we work effectively together. It all lies in the willingness to understand how to evolve our relationship and continue to achieve great results."