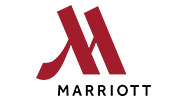 LAUREN CHEWNING
Vice President of Consumer Insights
Marriott International
Marriott International is a leading hospitality and hotel company with more than 3,900 managed and franchised properties around the world. As Vice President of Consumer Insights, Lauren Chewning uses both market research and behavioral analytics to better understand Marriott's current and potential customers and to help design the right experiences for them. The company views mobile/digital as an important strategy within their organization and considers them tools to be used not just for booking rooms, but also for customer engagement. Because of this, the highest priority for Marriott International's mobile strategy is to focus on mobile and digital guest experiences that drive lifetime customer loyalty.
"We've launched mobile check-in across our signature Marriott Hotels brand globally to make that process more seamless for our customers, and we're continuing to expand to other brands in the portfolio," she says. "We are constantly working to add new services to our mobile app and will continue to do so as customers demand it. We're very focused on digital customer interaction."
Most marketers have turned to social media as a part of their core strategies, and Marriott International is no different. Chewning says that social media will have an impact on their mobile strategy as well and has already noticed changes in customers' behaviors and expectations from mobile within the last couple of years.
"A big element in marketing today is moving away from traditional tactics and into different types of channels and forums that are more accommodating to peer-to-peer networking," she says. "We've been in the online space for a long time and are now moving into mobile interactions while guests are at our hotels. I think consumers are using mobile in our industry not just to book rooms, but also for peer recommendations, for example, because it is a more immediate way to get feedback about a hotel's services. Moving forward, we think they will also expect more services to be delivered via mobile interaction."
Today's mobile customers expect to have a seamless experience that allows them to easily receive and pass on information. Because the hospitality industry is a more traditional, service-based industry, making the shift from more traditional marketing initiatives (such as serving guests face-to-face) to the digital era proves challenging in that the company must develop new capabilities that have not been a part of their previous marketing efforts.
"As a result of all of the new platforms that have emerged, information technology has become far more important than it might have been in an environment where all you have to do is power up a PC at the front desk," Chewning says. "At a very minimum, customers expect our website to work on their phones. Moving forward, they will increasingly expect a personalized experience, that we understand who they are and that they can interact with us through their mobile device in the manner of their choosing."
Marriott International measures its mobile success based on metrics such as mobile revenue, user engagement and feedback from surveys targeted to customers using the mobile app.
Chewning feels that each mobile interaction point is critical to the customer's perception of Marriott as a brand. And because a customer's needs or desires at each stage of the mobile experience can vary, Marriott International uses those insights as a starting point when designing the mobile experience.
"We like to gather as much data as possible while respecting privacy policies so that we can enhance the customer's overall experience," Chewning says. "Knowing where our customers are going, how they're getting there and with whom they're traveling are vital pieces of information that we can use to further customize the mobile experience."