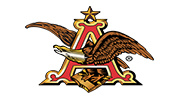 LUCAS HERSCOVICI
Global Director of Strategic Innovation and Marketing
Anheuser-Busch
Anheuser-Busch does not differentiate their digital strategy from their mobile strategy; rather, they refer to both as a connection strategy that enables them to focus on their fans, build relationships, and draw new consumers. Lucas Herscovici, Global Director of Strategic Innovation and Marketing, says that mobile is highly relevant for consumers, and the company has begun investing heavily in these efforts to drive engagement.
Within mobile, Anheuser-Busch uses a number of methods to engage with consumers, including mobile websites, apps, QR codes, SMS, and more. Prior to rolling out any mobile initiatives, Herscovici says they question whether or not the product or service meets a consumer need.
"We have a standard platform for developing apps, so we can leverage and synergize around different countries with different tools," he says. "We have an experimentation process that utilizes trial and error tests and KPIs to determine whether or not to pursue an initiative further."
The company has built a mobile app called Track Your Bud that allows users to check into their beer of choice and learn when it was produced and the story behind it from the brewmaster. The first few people to check into that beer also can have their names placed on that batch. The app can be accessed through a mobile website, as well as through QR codes in posters and other materials.
"The advantage of mobile is that it's always on, and you can reach more people in an extremely local and relevant way," he says. "The biggest challenge, on the other hand, is that there are so many different platforms and no standard. All devices have different capabilities, so you can't engage with all consumers in the same way."
Despite these challenges, Herscovici says mobile can create a significant competitive advantage if done correctly due to its ability to provide deeper levels of engagement than other channels through instant, two-way communication. Part of the company's success in this area is credited to their connection strategy.
"Our connection strategy is to focus on our fans first because we have big brands, and we believe that by having our fans engage with us, they will talk positively about us and bring in new consumers," he says. "So if mobile is relevant for our fans, we need to use it—it's that simple. We have put big investments in this area and will continue to do so moving forward."
Marketing works in collaboration with the IT team and their agencies to build and execute mobile initiatives, and they measure the success of their efforts differently depending on the type of tool they're using. Overall, it's about driving awareness and engagement and then determining ROI based on the investment.
"As a marketer, the biggest challenge is to find new methods to engage with consumers in a scalable way," he says. "We're tempted to do cool, fun, and new things, but given the fragmentation of the industry, it is difficult to do things that are scalable because we're not reaching everyone due to different platforms. Today, the key moment of decision is the moment of purchase, so we're looking to leverage mobile to influence purchase decisions."