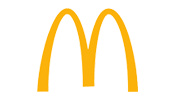 MARGOT TORRES
Senior Vice President of Marketing
McDonald's–Philippines
McDonald's serves approximately 69 million customers daily in more than 36,000 restaurants worldwide. The customer experience with McDonald's goes beyond the food they serve and involves the customer's total experience with the brand through its service, people and restaurant environment. As Senior Vice President of Marketing in the Philippines, Margot Torres is confident that the local Filipino consumer believes that McDonald's offers good value for money and appreciates its fast service and quality food. Her long-term goal in the Philippines is making the local consumer love all of the food on the menu—not just the world-famous French Fries.

Aside from consumer research, the company has a strong utilization of social media to learn more about what consumers want and works to respond to their feedback in order to provide a positive customer experience.
When it comes to customer experience priorities, the company prioritizes specific strategic pillars. One is value, which includes both affordability and value for money. The second is taste, and the third is the overall service experience and convenience. The company also places importance on brand trust.
"We want to improve brand trust in general, and that includes not only the taste of our food and the overall service experience, but also what we do for our local community, society and the planet as well," Torres shares.
To collect customer feedback around these areas, the company uses consumer research tracking, focus group discussions, customer care feedback and social media to monitor the customer experience. In the Philippines, there are more mobile phones than its population, with 101-percent mobile phone penetration, 40 percent of which are smartphones. Thirty-four million are active on Facebook, 10 million are on Twitter, and at least 18 million are actively using messaging apps like Viber, LINE, WhatsApp and WeChat.
"We are a mobile-first country, meaning the first experience of the Internet for many local consumers is through mobile," Torres says. "With more affordable smartphones and data access, more people are connected, especially on social networks. This has greatly contributed to our social media success in knowing and connecting with the consumer."
In working to provide a superior overall customer experience, organizational alignment has proven to be a critical challenge for marketing in the Philippines.
"When you start to involve other functional experts and groups to deliver the overall customer experience, excellent execution is a challenge," she says. "Competency of internal and external partners determines the quality of delivering a superior customer experience. Automation and accessibility of information are critical to be able to be agile with decision making."
With respect to short- and long-term goals, Torres expects sales growth and profitability to increase within the next six months, and within a year, she expects improvement with brand metrics and awareness. Five years down the road, Torres and her team plan to build out a more sophisticated segmentation of McDonald's Filipino customers with a vision of mass personalization.
"We're getting ready to start our CRM journey, and in five years' time, we should have a really robust way to segment our customers and know them more intimately," Torres says. "It's really just a matter of mining data. If we are able to know from the time you call our delivery hotline, visit our website or use the app exactly what your past three orders were and how much value you contribute in a month, I'd be very happy."
To achieve these goals, the company will need the right platforms and technologies in place, but even though these aspects may sometimes prove to be challenging, Torres believes having the right people in place makes all the difference.
"I'm a big believer in the idea that success rests on having the right people," Torres says. "We know what we want, and having the right people will help us to get there."