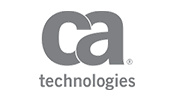 MARY BERMEL
Vice President of Global Integrated Marketing
CA Technologies
As an IT management software and solutions provider, CA Technologies is focused on providing content that customers need throughout the buying journey. Mary Bermel, Vice President of Global Integrated Marketing, says that while content tends to have a pre-sales focus, they are also dedicated to creating content that aids customers in their purchase decision process.
According to Bermel, all of the company's content is based on the buyer journey and the understanding that the buyer is in control. She believes their job is to ensure that people have the information they need to become educated on their solutions and to justify their decision to select CA Technologies as a vendor.
In order to improve the success of their content efforts, she says they recently implemented marketing automation software to learn more about how they can meet the content consumption needs of customers and prospects.
"We are monitoring content consumption through marketing automation, although I don't feel that we have all of the analytics we need to show the impact of content on close rates," she says. "However, we have data that shows us where customers are moving forward, where they are getting stuck and where we might need to make adjustments to better support their journey."
With respect to content, Bermel says they have specific goals tied to their various content programs, including webinars, content syndication media and email campaigns, as a few examples. Establishing plans and goals for content is critical because she says each piece addresses different needs based on the solution.
"Solutions with which customers are very familiar may not require much educational content, but a brand-new product would require a lot of educational content," she says. "We develop content based on what we perceive to be the requirements of the buyer, whether it's helping them select a solution or validating us as a vendor."
In terms of segmentation, Bermel says they divide customers into four groups: discovery, consideration, decision and advocacy. While they cater content around these groups and their various places in the buyer journey, she believes there is always room to improve in this area.
"We are committed to developing content that is aligned to the buyer journey so that we achieve the greatest impact," she says. "Through content, we are also able to get a better understanding of the customer based on the types of content they consume. This helps us to make sure that sales don't engage with the customer directly until we are confident that they fit the right profile as a lead. Marketing automation also helps us measure and test the success of content before a prospect engages with sales."
Bermel says the company works to create content that is driven by deep insights, and they are working to extend the content they already have into multiple formats, such as creating a short e-book or podcast based on a white paper and then distributing that content through multiple channels. She believes this strategy helps to support the different ways in which buyers may want to interact with content throughout their research process.
"I think there are some gaps in consistency and our ability to always create content that is based on deep insights, but this is a big area of focus and will be one in which we challenge ourselves moving forward," she says.
When it comes to content syndication, Bermel says they engage with third parties, such as technology sites and social media, and they are placing increased focus on the variety of community-based technology sites as they see more customers using them. Currently, their syndication efforts are primarily rooted in tried-and-true trade media publications and niche social media sites.
"When we participate in formal syndication programs, we get weekly reports that tell us about the content that has been consumed, and some vendors even provide information about other content types that seem to be working for other vendors," she says. "The data we have around syndication comes from our own efforts, as well as third-party sources, so it's a combination of what we can manage and what third parties provide to us."