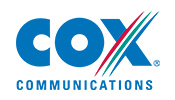 ROBERT PETTIFORD
Executive Director of Product Development and Management
Cox Communications
In an industry that constantly battles negative customer perceptions, Cox Communications understands the importance of having a strong brand that values its customers and demonstrates that value to them. Robert Pettiford, Executive Director of Product Development and Management, says that the brand is an important part of who they are, and the organization is focused on delivering the best experience in communications to its customers by better tailoring products and services to them.
While data plays an important role in shaping the view of the customer today, Pettiford says this has not always been the case for the brand.
"Access to data has not necessarily been valued at our organization until the last five years or so, and we've really transformed our understanding of our customers," he explains. "This has involved not only understanding who our customers are, but also the experience that they are having inside of our network and bringing that experiential data together with the marketing data so that we can deliver much more segmented and targeted offers."
Data sources for Cox include both primary and third-party research, and Pettiford says the company has an insights group that is part of the brand and strategy team to help glean important information about customers. A digital experience team has also played a major role in simplifying this process.

"Digital experience has allowed us to marry the data from different channels so that we know—regardless of whether it's online, mobile, etc.—what their interactions with us are," he says. "We're then able to link those interactions and create a single view of the customer experience."
Still, some insights are missing from the full picture. For example, Pettiford says they believe they understand the affordability of their product from a customer standpoint, but it is difficult to know their ability to continue purchasing more bundled products and services, so they are still making progress in that area. This challenge is largely related to the difficulty that today's marketers have in distinguishing between what customers say, what they do and what is actually driving those behaviors.
"We use a level of hindsight when it comes to our data, and we are shifting that information forward to create predictive models for our customers that we can refine over time," he says.
Understanding what consumers want from them is a challenge for Cox as a telecommunications provider. As telecommunications companies face largely negative perceptions—and because those perceptions are inconsistent with what the brand strives to be—Pettiford says it will be important to re-evaluate who they believe they are for their customers and make efforts to better meet their expectations.
"Our customers would love for us to not interfere with their experiences, but they want us to be there if they have challenges," he says. "From a branding and marketing perspective, we have to make ourselves available but still remain more in the background, which is akin to leading from behind. It is definitely a challenge."
Social media has played a heavy role in shaping the way brands are perceived culturally, particularly for the telecommunications industry. Social has played a big part in transforming customer expectations, and while they are generally willing to relinquish more control over their information, it places significant pressure on companies with subscription models. In response, Pettiford says that business models will likely shift as well.
"Companies are looking for different ways to attract customers, and that might mean offering certain products or services for free initially and then evolving into more of a paid model, or it might mean finding something that is completely different from our traditional subscription models," he explains. "In a cluttered world where the majority of people walk with their heads down and stare at their phones, it will be important for us to identify what matters to customers and market things that are much more simple, streamed and pared back."