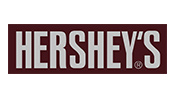 STEVEN SCHILLER
Senior Vice President, Sweets and Refreshment SBU
The Hershey Company
The Hershey Company is world-renowned for its food and beverage products, especially as it pertains to sweets. Steven Schiller, the company's Senior Vice President of the Sweets and Refreshment Strategic Business Unit, says one of the company's keys to running smooth, effective campaigns is its detailed process for campaign execution. While digital has a place in Hershey's marketing efforts, its presence is not yet highly utilized in the campaign process.

While Schiller acknowledges the unprecedented amount of opportunity that digital channels present, he feels that data supporting its effectiveness as a platform is in the early stages of being understood and accepted.
"There is a great desire for marketers to be a part of the digital world, but it is easy to waste money on it right now. When working with tight budgets, it is critical to invest in proven elements of the marketing mix," he says. "We are working on some industry-leading analytics around those investments so that we can balance our marketing mix more and more with digital as a part of it."
In an effort to be financially cautious, Schiller says The Hershey Company uses digital on very specific campaigns with clear objectives in mind.
"We tend to use digital as an enhancement and in conjunction with our mainstream approaches," he says. "We also have a number of digital assets that are centralized and can be used by the organization on a local level for either digital or other advertising work."
Regardless of the shift toward digital in marketing, Schiller feels the company is using its assets appropriately in terms of campaigns and properly positioning the brands in the market.
"We aren't developing a great deal of content on a continuing basis, but if one of our brands has followers on Twitter or Facebook, we will connect with them as appropriate on a regular basis," he says. "There is a great deal of opportunity in digital, but one must remain careful not to waste money on an unproven campaign. We have a strong set of guidelines and processes in place to help ensure that we are only spending time and money on things that are strategically relevant and proven."
Despite the company's stringent process for launching communications, Schiller says at times inconsistencies do occur, but they also serve as great learning moments.
"It is really important for marketers to work inside the corporate guidelines. If a consumer interaction migrates too far from the overall strategy and/or expected performance metrics, we move back to our processes very quickly," he says. "On the other hand, some people take great initiative and present things that we may not have thought of before, and there has been some good knowledge gleaned from those situations."
The lack of analytics surrounding digital marketing has led The Hershey Company to begin building internal digital capabilities and analytics within the marketing mix. A number of people within the company have extensive knowledge of the industry and are pulling together agencies to support this work. Agency partners have also been utilized to aid in the translation of language and the approach to make global campaigns locally relevant.
"We have had digital agencies with varying degrees of success, but we're finding that there is real value in working with people who have technical experience," Schiller says. "There's also value in the creative side. We haven't been so successful in finding both of those capabilities at the same time, but we are getting closer."
The greatest barrier to executing digital campaigns to maintain a consistent brand presence lies in the lack of data surrounding digital investments. Schiller says that for Hershey, the ROI for these efforts has not been very clear, but he was also quick to point out that the company was aggressively working on the analytics front.
"In the digital world, the industry has not yet caught up with the sophisticated analytics required around how good digital investments are versus other communication and consumer connection mediums," he says. "Hershey is ROI-centric, so we want to have a level of predictability around the type of return we will achieve for the dollars we invest."