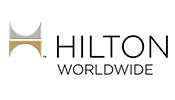 STUART FOSTER
Vice President of Marketing
HIlton Worldwide
A number of different teams drive customer initiatives across the Hilton brand. Stuart Foster, the company's Vice President of Marketing, oversees the marketing team for Waldorf Astoria and Conrad hotels. In the capacity, Foster and his team both work seamlessly together with the Hilton HHonors Loyalty team to communicate and provide offers to motivate customer retention. Through cutting-edge technology platforms and a robust customer data warehouse, Foster is able to drive loyalty and increase sales. Consequently, his relationship with the IT function is close, and the role of the CIO is valued by the C-suite.
As a key player in the service and hospitality industry, Foster believes no other industry could be more consumer-centric. In fact, customer experience is so important that one of the key drivers for success continually measured at Hilton Worldwide is the satisfaction index. It is measured and analyzed on a daily, monthly and annual basis and is even tied to team member compensation. For these reasons, data and insights play an extremely important role in shaping the customer experience.
Across the enterprise, customer data is jointly owned by the actual properties and the HHonors team. The HHonors database consists of almost 120 million people and contains specific fields of customer data, such as locations visited, frequency, preferences and spending habits. The organization also uses outside data from partners such as airlines and American Express to complement their own database.
"Having access to the specific fields of customer data allows me to really zero in within the 120 million to a really efficient group of people that I want to target for direct activities," says Foster.
Due to such a robust customer database, the time it takes to analyze the data and then articulate a motivating offer can be limiting. Additionally, customer-centric strategies sometimes fall behind the desire to drive immediate revenue.
"At the end of the day, loyalty is our greatest friend," he says. "If we can drive loyalty and get repeat guests, it's proven that as they come back, they will spend more. It's less expensive to motivate somebody a second, third, fourth or fifth time. However, sometimes we are more focused on driving that new customer than we are driving the repeat purchase, and I think that's because we can let short-term sales objectives get in the way of long-term guest recruitment."
Customers who are members of True Waldorf Service receive pre-arrival offers based on their historical spend. Through offers like this, the brand shows its dedication to service principles.
"It's not only customer satisfaction that we measure—it's the actual revenue that those customers spend in the hotel," Foster says. "They're spending about 40 percent more when we contact them on a personal basis and show that we know more about them than they realize, and therefore, it customizes their stay. They're much more satisfied with the hotel. They're much more likely to come back, and they actually spend more."
In Conrad Hotels, the brand just launched "Conrad Concierge," which is able to hotwire guests directly into the hotel's services. Through their smartphone or tablet, guests can access all of the services of the hotel, such as in-room dining, transportation, amenities, housekeeping, reservations, wake-up calls, etc.
"All the services that you would normally pick up a phone and ask for are now available for guests to access directly through their personal devices, and that's where we're using technology to provide a very personalized customer experience in a very innovative way," he says. "No one else is doing this in the same way we are."
The CIO is an extremely valued role at Hilton and was once considered beneath the president of the company but is now on the executive committee in a position considered equal to the president.
"The role is extremely important because of the vast amount of hotel operating and CRM systems—all these different systems need to work together," notes Foster. "The IT function has definitely evolved. They are the people we work with on a daily basis at all levels, from manager to director through senior vice president."