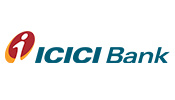 SUJIT GANGULI
Head of Marketing
ICICI Bank
ICICI Bank is the largest private-sector bank in India. They are among the most popular websites in India. About 30 percent of their customers engage with the bank online, making digital marketing a top priority. Sujit Ganguli, Head of Marketing, says this has led them to become much smarter and sharper with their targeting and the services they make available to consumers through digital channels.
ICICI Bank is ahead of other banks in the region with regard to its digital capabilities and the types of features it makes available for consumers. For example, in light of the massive number of mobile phone users in the country, the bank has found a unique business opportunity.
"Most mobile users have to physically go to a telecom company and pay for their service for the month, but we are getting into that space to promote change," he says. "We are finding that we can have customers use SMS to pay for their monthly service, and these types of services are revolutionizing the market when you consider the hundreds of millions of people they help. We are also perhaps the only bank in the world to have a Facebook app that allows people to access their bank information after an authentication process."
While they were initially hesitant to delve into social media, Ganguli says the bank is also adamant about listening to what consumers are saying, whether it's good or bad. As a result, social media has become a top priority for the bank.
"We were among the last companies to launch social media because we wanted to be sure that we were fully prepared to handle social media given our large online base, but we've actually been able to ramp up our fan base quickly," he says. "Although our numbers are not the highest, our engagement ratio is ahead of any other bank in India. Currently, we are by far the largest bank in India in terms of the number of fans, and we have the highest engagement ratio among fans in comparison to other Indian banks."
Because of the sheer volume of digital transactions that the bank sees every month, a separate entity within the bank is tasked with managing their digital presence. However, the two departments work closely together, so any external campaigns for getting new consumers or communications about product/service launches and achievements are handled by marketing.
Rather than having stakeholders dictate the priorities for digital marketing, Ganguli says these typically come from the consumer and market opportunity. However, they work with the business intelligence division to determine which customers to target, who should receive certain mailers, what the response has been, etc.
"Digital campaigns are better defined, so we tend to get better results, and the impact of our efforts is far more measurable in digital versus television," he says. "This can also be a challenge, though, because it leads to high expectations, so we have to continuously be able to prove the ROI we are achieving. Still, the opportunities digital creates go hand-in-hand with the complexities. We have to look at the big picture and work around the complexities to make the opportunity even greater."
The greatest complexity Ganguli identifies is the lack of people trained in both business and the digital marketing field. He says they work with top-of-the-line ad agencies to gain expertise in this area, and they are constantly measuring their efforts.
"We are constantly benchmarking ourselves against the best in the world, maintaining open communications with our vendors, and keeping our eyes on what consumers want," he says. "The day we become satisfied with the work we do will mark the beginning of the end for us—we have to continue growing and expanding our interactive capabilities in order to remain engaging to consumers."