The 2011 State of Marketing
The CMO Council surveyed over 750 of its members to gather insights and contributions for its seminal report, The 2011 State Of Marketing: Outlook, Intentions and Investments.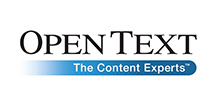 About sponsor
Open Text, an enterprise software company and leader in enterprise content management, helps organizations manage and gain the true value of their business content. Open Text brings two decades of expertise supporting millions of users in 114 countries. Working with our customers and partners, we bring together leading Content Experts to help organizations capture and preserve corporate memory, increase brand equity, automate processes, mitigate risk, manage compliance and improve competitiveness. As a publicly traded company, Open Text manages and maximizes its resources and relationships to ensure the success of great minds working together. For more information, visit www.opentext.com.
Overview
The CMO Council surveyed over 750 of its members to gather insights and contributions for its seminal report, The 2011 State Of Marketing: Outlook, Intentions and Investments.
The fifth annual State of Marketing Report extracted a broad range of insights and views specific to mandates, spend, intentions and frustrations. Participants were drawn from each major region of the world and were representative of most vertical industry sectors and company sizes. Almost 64 percent of respondents said they reported directly to the CEO, president or COO, while another 14 percent said they were accountable to a regional vice president, general manager or division/business group head. Among the respondents, 34 percent held CMO or Head of Marketing titles, while 33 percent held roles of Vice President or above.
Three critical areas of attention top the "to do" list of marketers in 2011:
Multiplying Marketing Performance: According to the CMO Council's Marketing Outlook 2011 study, the key management mandate to marketers is to drive top-line growth and market share while better defining the brand and value proposition. Marketers must move to optimize the marketing process in order to maximize business performance. Through new automated campaign and lead management tools, marketers can engage in highly interactive (and highly relevant) dialogues across multiple channels, reaching across social, digital, and traditional media channels. Connecting the measurements of these multiple channels is one of the key challenges marketers will seek to address in 2011.
Redefining Customer Experience: Marketing must redefine the customer experience, developing web experiences that are highly engaging, personalized and differentiated. This new "experience mix" must include social platforms, but must also integrate the messaging and engagements through traditional channels. Ecommerce capabilities and channels of fulfillment must also be integrated to create a unified, seamless multi-channel journey for the customer. This experience must now bridge the gap between the art of marketing and the science of analytics, measurement and process. Marketers need to better understand the impact marketing and technology integration can have in making customer experiences more gratifying and satisfying, thereby improving loyalty, retention and repeat purchase.
Using Insight to Grow Brand Affinity: Marketing admits they lack high levels of competency in extracting valuable insight and predictive analytics from the mass of customer data that continues to multiply inside and outside their enterprises. Yet, as we continue to engage with customers in instant, online social channels, gathering data from every impression, every search, every transaction, status update, or tweet can develop a more complete profile or the customer and must be integrated with off line data sources. Marketing has the opportunity to leverage this rich data repository to more fully understand, target, and serve customers in ways that improve response, drive repeat purchase, up-sell and cross-sell products, and inspire loyalty and attachment. Marketers must respond to the paradigm shift from BtoC to CtoB with reviews and reassessments of their marketing mix and allocation of spend. This includes greater use of localized marketing tools, adaptive merchandising systems, interactive self-serve technologies, mass-personalized messaging solutions, social media channels, mobile relationship marketing platforms, and corporate social responsibility programs (e.g. sustainability).