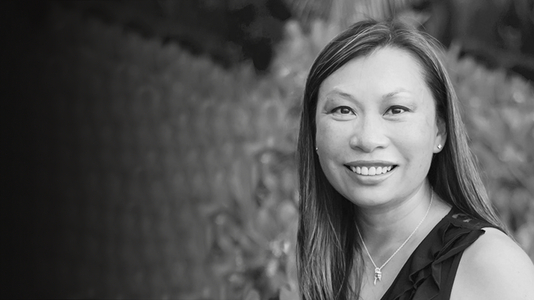 ANNIE HEADLEY
VP of Corporate Marketing
Nutanix
CMO COUNCIL: Tell us a little about your background and how you got to where you are now.
HEADLEY: In high school, I became enamored with the idea of working at an advertising agency. Although I was accepted to several 4-year universities, I wasn't sure what one studies to prepare for an agency. What role would suit me best? Would I be a copywriter or a designer? My immigrant parents did not exactly have a college fund for me. Pragmatically, it made sense to go to a junior college first to explore general education courses. Ultimately, I did graduate from a 4-year university with a Design degree. Post-graduation, I was offered a role at an agency as an Account Manager. It wasn't exactly graphic design, but I was working at an agency!
I never did go back to graphic design. I ended up staying on the business side of things, exploring roles in Project Management, Client Services, Marketing Communications, Event Marketing, Partner Marketing, Corporate Communications, Digital Marketing, and eventually Corporate Marketing. My rise on the corporate ladder was slow and steady. I didn't get to skip ahead; I learned the ropes by working as a Specialist to start, then Manager, Senior Manager, Director, Senior Director, and eventually Vice President. Seventeen years after I first entered corporate America, I finally became a VP.
It might have taken me longer than most, but I have no regrets. I am confident that my breadth of experience in the many marketing roles I have held contributes to my ability to effectively lead as a corporate marketing leader overseeing brand, content marketing, creative, web and digital, corporate events, customer marketing, and marketing communications.
CMO COUNCIL: What's the best piece of career advice you've been given? Or what career advice would you give to developing marketing leaders?
HEADLEY: I climbed the career ladder slowly but steadily, while juggling motherhood and full-time employment. Early on, I rarely asked for career advancement opportunities believing that because I was a working mother, I was not equally as effective or productive as others, and therefore not deserving of more. I kept my head down for many years and stayed at the same job level without much advancement. I did not advocate for myself.
Over time, I did want more and eventually landed a director level role at a boutique agency. From there, I became more assertive and advanced to a senior director role a few years later. In 2015, when I was one of two finalists for a VP, Corporate Marketing role, I was meeting with the VP, HR and he indicated they would like to make me an offer. However, he said "You don't look like a VP." I was shocked and froze for what felt like an eternity. In the end, he wanted to offer me a Sr. Director role, even though I had gone through all the previous rounds as a VP candidate for a VP role. I knew my worth and walked out of that room with grace and professionalism intact. I had learned the valuable lesson that I want all developing marketing leaders to know: know your worth and advocate for yourself.
CMO COUNCIL: What are some of the secrets to better collaboration with peers in the C-suite and lines of business?
HEADLEY: When I'm working with various C-suite members on high visibility projects, whether it's introducing a brand refresh or launching a new marketing campaign, building an executive briefing center or producing our user conferences, two key phrases come to mind – listen a lot and communicate often. Hold a discovery meeting to share the project goals and then listen for their input. Form the strategy and then share early on; listen again for input. Expand the circle and get buy-in from peers and colleagues. Communicate the feedback to the execs and update on any strategy shift. I believe it's also a best practice to be clear up front about scope, resources, budget, timeline, and expected outcome. Throughout the project life cycle, I also share progress updates regularly. I usually find if you keep everyone informed, everything goes smoothly.
The future of MarTech depends on CMO-CIO relationships, read more here.
CMO COUNCIL: What is your biggest challenge this year? How are you overcoming it?
HEADLEY: Brand and demand campaigns are traditionally developed within different groups – the Brand team and then the Demand Gen team respectively.
Research has shown prospective buyers do in depth research on a brand before even considering giving up their private information for a gated asset. To successfully take a prospect through a journey from awareness to consideration and ultimately to conversion, we should align on messaging, creative, campaign and media strategy. My thinking is if the prospect already knows your brand, your value prop, your "why" – they are more inclined to learn more from you, trial your product, engage with your sales reps, attend your events and webinars, and download your asset. Therefore, demand gen campaigns can be directly impacted from the awareness generated by brand campaigns.
To fully benefit from this approach, we should execute on what I call "BrandGen" campaigns. We should come together, even if we are on separate teams to develop campaign strategy specifically designed to create greater awareness for our brand so that we can then increase demand. Tactically, this means developing a media plan for both awareness and demand gen campaigns together and then leveraging tactics such as retargeting and/or nurture to further increase opportunities to engage and convert.
It's been a work in progress, and we've been fine tuning and optimizing along the way. I encourage the team to make data driven decisions and relentlessly measure, test, optimize, and learn.
CMO COUNCIL: How do you describe your leadership style?
HEADLEY: I believe in two different leadership styles. Each member of the team is important to me, and I empower my experienced team leaders to guide and manage every individual. I welcome input from everyone and expect collaboration. I want to hear opposing views so that we can discuss and come together on a best approach forward. When I've enabled an environment where we can all openly discuss our different perspectives, we will come to support the end decision together. I am a democratic leader in this respect.
While I manage through my team leads, I always say the most important thing I can do as a leader is to get everyone in the same boat, rowing in the same direction, and ending up in the same destination. To that end, I am generous with my time and support. I rarely miss a one-on-one with my direct reports. In addition, I hold skip level one-on-ones regularly with the rest of the team to both ensure I know my whole team well and to offer advice and guidance as needed. I want every opportunity to receive feedback, motivate the team, and clarify expectations. I believe this type of coaching leadership results in higher quality contributions from a more engaged team.
CMO COUNCIL: What is a quote or saying you live by?
HEADLEY: "The greatest glory in living lies not in never falling, but in rising every time we fall." – Nelson Mandela
I experienced a tragic death in my family when I was 25 and that moment had a huge impact on me. It was the first time in my life that I had lost someone so close to me. I didn't know how to cope at first, but after a while, I could not remain stagnant any longer. With the help of a loving network of family, friends, and coworkers who all helped to pick me up, I knew I had to pick myself up the rest of the way and get back out into the world. I realized then that most everything in life is reversible except for death. I fell so hard, there was nothing more to fear and nothing else to lose – so I decided to rise. I approach work with this same philosophy. We will make mistakes, and we will fail and fall at times. To my team – I will help pick you up if we fall. Let's get up together, learn from it, and move forward together.