Quantify How Well You Unify
Exploring the Business Impact of Marketing Technology Integration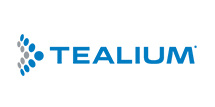 About sponsor
Founded in 2008, Tealium is the leader in enterprise tag management and digital data distribution platforms. Tealium gives marketers a comprehensive solution for managing their third-party digital marketing vendor tags and correlating the data those tags generate into a clean, actionable source. Hundreds of major brands on five different continents rely on Tealium to streamline digital marketing complexity, solve their customer data integration challenges, and improve the effectiveness of their customer acquisition and retention campaigns. Tealium was founded by digital marketing pioneers and is led by CEO Jeff Lunsford, who had taken two companies public: WebSideStory (now part of Adobe Systems) and Limelight Networks. Tealium is funded by top-tier venture capital firms, including Battery Ventures and Tenaya Capital, which have invested in category leaders such as Omniture (Adobe Systems), ExactTarget, BazaarVoice, Marketo and many more.
Overview
Without question, marketers are at the apex of digital evolution as organizations are rallying around technology as key component of their overall strategy. Functional marketing silos are being imploded and tightly connected for improved customer lifecycle management, omni-channel marketing, integration, workflow and use of critical data using advanced marketing automation platforms.
However, marketers are challenged to improve the economics and value of random and disparate marketing cloud investments across multiple platforms and solution areas. Proliferating marketing technology applications, digital engagement channels and customer-driven interfaces are spawning vast volumes of data and insight, which need to be integrated and unified across diverse silos and ever-growing digital data stacks without investing heavily in back-office data warehousing projects.
The first and perhaps most critical step to establishing a long-lasting digital strategy is to develop a fully integrated, cloud-based infrastructure that allows for flexibility and meets key goals for the business. Chief marketers are in need of consultation, guidance and direction when it comes to helping them specify, implement and adopt digital marketing technologies, strategies, practices and solutions.
They are challenged to staff and resource digital marketing programs, integrate offline and online campaigns, as well as unify disparate marketing functions, data sources and go-to-market processes. More importantly, they have to be effective at making a business case to management on how digital marketing technology investment and migration will drive business performance, increase customer lifetime value and retention, and create more adept and adaptive organizations.
Just 9 percent of more than 200 global marketers surveyed by the CMO Council in its "Integrate to Accelerate Digital Marketing Effectiveness" study say they have a highly evolved digital marketing model with a proven and clear path of evolution. This compares to 36 percent who report a random embrace of marketing point solutions (many cloud-based) that are not well integrated or unified.
According to 63 percent of respondents, management's interest in digital marketing migration has much to do with its potential to increase marketing performance and ROI through more efficient digital media channels and better customer engagement. In addition, 49 percent of marketers believe management is also responding to the preference of customers for digital media consumption and live, on-demand interaction with brands and companies.
What's Driving Deployment?
Determining the optimal way to go to market has never been more challenging. A multitude of 
new media channels and online/mobile avenues of market access are fragmenting media buys. Channels of distribution are multiplying, requiring broader, more diverse and customized marketing support. Sophisticated customer information gathering and database marketing techniques are seeing big shifts of marketing resources into areas that allow for improved behavioral targeting and personalization to optimize response and revenue potential. 

Market pace and velocity require more efficient and intimate online customer engagement, quicker product uptake and viral affirmation through social and shared interest networks, as well as greater prominence and cost-effective prospect acquisition through websites and contextual search optimization, web content delivery and pervasive mobile connectivity with customers. 

Today's marketing planning process requires better data integration and analytics, more 
accurate forecasting and predictive modeling, higher levels of marketing group participation and accountability, and the deployment of closed-loop campaign performance dashboards. This will be driven by a wider embrace of marketing automation platforms, processes, continuous business activity monitoring and intelligence-gathering across all customer touch points, interactions and transactions.
Customer expectation in the digitally driven world demands targeted, relevant and meaningful engagements at every turn. As more customers consider defection from brands because the information, content, services, promotions and engagements lack relevance and resonance, marketers must look to data-driven strategies that deliver the right message to the right customer at the right time—and in the right channel. Marketing must forge and reinforce the ties between technology, customer data and the customer experience.
Marketing Cloud Convergence and Consolidation
A review of customer data-centric software listed on Capterra indicates more than 3,000 marketing technology products, platforms and point solutions across some 30 application areas. These include email marketing, website monitoring and analytics, CRM, social media monitoring, social networking, web data extraction, customer experience/loyalty/satisfaction, search marketing, social media marketing, campaign execution, lead management, mobile marketing, contact centers, customer feedback, display advertising, affiliate marketing, personalization, shopping, instant chat, etc.
Marketing automation system revenue topped $750 million in 2013, a 50-percent increase over the $500 million reported in 2012, according to Raab Associates Inc., a marketing automation research and consulting firm. The 2012 revenue total represented a 61.5 percent increase over $325 million reported in 2011. While a major consolidation of this fragmented, sprawling market is underway, many new innovative products are still coming to market.
One year after its $871 million acquisition of Vienna, Virginia-based Eloqua, Oracle purchased marketing automation platform provider Responsys for $1.5 billion in December 2013. To further expand its cloud-based marketing software portfolio, Oracle bought Corente in January 2014 and social media/web content distribution software provider Compendium in October 2013.
Other acquisition hungry software vendors, such as Adobe, Salesforce, IBM, SAP, Microsoft and Teradata, are stitching together and rolling up many different point solution providers to create suites of offerings. But the challenge of easily unifying multiple data streams collected by these diverse applications (and third-party data services) remains challenging without the use of powerful marketing middleware to collectivize and create a richer, 360-degree view of the customer.
Crack the Code on How to Lighten the Load
The CMO Council will lead a targeted outreach effort to engage its members in qualitative and quantitative conversations around the economics and benefits of unifying marketing technologies and data. This will result in a credible body of knowledge that will amplify the need for chief marketers to be more strategic in their acquisition and utilization of marketing technologies. It will generate key data points that underscore the financial, business and customer relationship value of strategically focusing and integrating marketing technology solutions. It will audit and assess the degree to which chief marketers are engaged in marketing technology acquisition and planning. And it will shine a light on the performance gains made by early adopters and best practice leaders.
Research: Survey & Reports
Program Themes
Technology Spend
MarTech Trends
Technology Budget