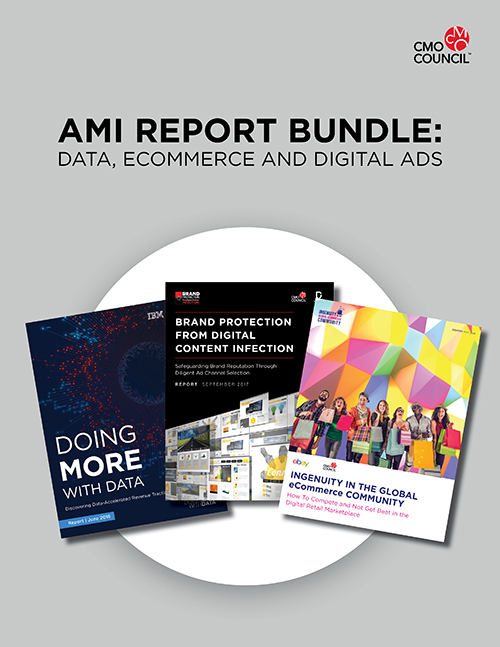 *Included with premium membership or library subscription
As a special offering to AMI Members, this bundle provides access to three complimentary CMO Council reports. In each of these reports you will find detailed charts and graphs as well as deep-dive executive interviews.
Brand Protection From Digital Content Infection:
While programmatic ad spend continues to increase exponentially year over year, the risk of digital display ads appearing next to offensive or objectionable content is becoming a top concern for marketers. In fact, this study—conducted in partnership with Dow Jones—reveals that 72 percent of marketers are concerned about brand integrity and control when it comes to their programmatic investments, and more than a quarter have actually experienced incidents where their content appeared alongside compromising content. This report provides valuable insights from an online survey of more than 300 senior marketing decision makers, in addition to qualitative perspectives based on interviews with brand leaders at AIG, SAP, Lenovo, MGM Resorts, Reebok, Vera Bradley, TUMI, Morgan Stanley and more.
Doing More With Data:
Charged with the mandate of elevating customer experience, marketers increasingly look to data to better engage with customers and identify new opportunities. Yet previous CMO Council research highlights that marketers admit their organizations could do more to transform the data supply chain to allow them to do more with internal data assets. To ignite real change, data needs to move beyond the marketing silo. The three critical functions as it relates to customer engagement: marketing, commerce and supply chain, must work together to elevate data strategies. The research stems from a survey of 165 marketing, commerce and supply chain executives, as well as 12 deep-dive interviews with executives who reveal the ways they are rethinking their engagement strategies through smarter use of data insights. Those executives hail from brands like AT&T, The Body Shop, Samsonite, REI, Ryder, TD Bank, Cabela's and Nordstrom.
Ingenuity in the Global eCommerce Community:
Large, global eCommerce communities are disrupting the retail marketplace by bringing together vast numbers of buyers and sellers in frictionless transactional environments. Inspired by their success, brand marketers are rethinking go-to-market strategies to better integrate digital advertising with personalized shopper engagement and more effective conversion programs. This report highlights perspectives from a survey of nearly 200 brand marketers, wherein well over 50 percent believe that large eCommerce communities are revolutionizing and reinventing the global retail marketplace, and also forcing them to rethink every aspect of how they go to market. In a telling self-assessment, 60 percent report that they need to embrace a more cohesive, integrated, multi-channel digital retail strategy to improve their own eCommerce business. The report also includes key perspectives from brand leaders from LEGO, Puma, Casio, Serta, Bosch, Brooks, PERRIN PARIS and Fruit of the Loom/Spalding.