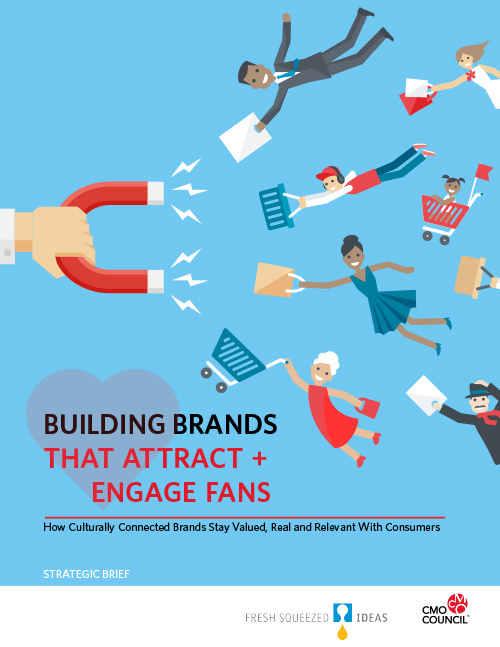 *Included with premium membership or library subscription
How Culturally Connected Brands Stay Valued, Real and Relevant With Consumers
How do consumer brands stay relevant, authentic and differentiated in a rapidly evolving and culturally complex global market? With 195 countries and 6,500 languages around the world, the challenge is daunting as brands seek new methods and motivators to connect and engage with audiences through social, mobile, experiential, digital advertising and eCommerce channels.
The Chief Marketing Officer (CMO) Council has teamed with Fresh Squeezed Ideas to explore the cultural connection to brand attraction. In a strategic brief, titled "Building Brands That Attract and Engage Fans," the CMO Council taps domain experts and notable brand marketers from PepsiCo, Visa, J&J, PetSmart, Cox Communications, Opus Bank and Overwaitea Food Group to learn more about how culturally connected brands stay valued, real and relevant with consumers.
Marketers must accurately situate their brands within a cultural, consumer and competitive context. Using a brand ecology model, there are endless possibilities to create new communications, new innovation strategies and new marketing interventions by tapping into the power of a culturally informed brand strategy in a structured way.
The CMO Council report notes that brand attraction is harder to achieve than brand recognition. "Brand attraction is unconscious—people are inexplicably attracted to brands that reflect their values." Based on this definition of brand attraction, the CMO Council interviewed a select group of members to find out how they view their brand ethos, relevancy and following, as well as to what degree this is creating differentiation and distinction in the market.