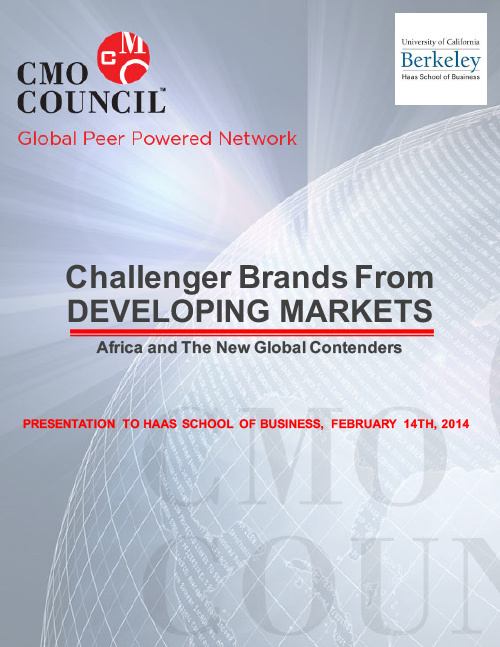 *Included with premium membership or library subscription
The New Global Contenders
Many emerging market multi-nationals are category innovators, market disruptors and opportunistic acquirers of entrenched Western brands. They use frugal design, lean production, new technology, large cash coffers, and economies of scale from contract manufacturing and robust local markets to compete with slow moving and less agile incumbents. What challenges do they face and what strategies are they employing to enter and expand in Western markets? Which companies from Africa are leading the charge and how are they gaining competitive advantage globally?
Donovan Neale-May, executive director of the Chief Marketing Officer (CMO) Council, believes South Africa will likely be a big winner in the emerging market sweepstakes. A good number of Africa's top 55 billionaires are South African industrialists and corporate leaders. Some of its international entrepreneurs, like Elon Musk, Sol Kerzner and Mark Shuttleworth, have become global innovation icons. And large home-grown companies like SABMiller, Richemont, MTN Group, Naspers, Standard Bank Group, FirstRand Limited, Old Mutual, Discovery Holdings, Liberty Life Group, Nando's and Shoprite Group are well positioned to multiply their presence in Africa and other foreign markets.
Neale-May's presentation at UC Berkeley HAAS School of Business on February 14, 2014 focused on what has created success for some of the 1,000 companies with revenues of over $1 billion that are now based in developing economies.
He also reviewed Africa's most valuable brands and some of the key performance indicators of these global market aspirants.