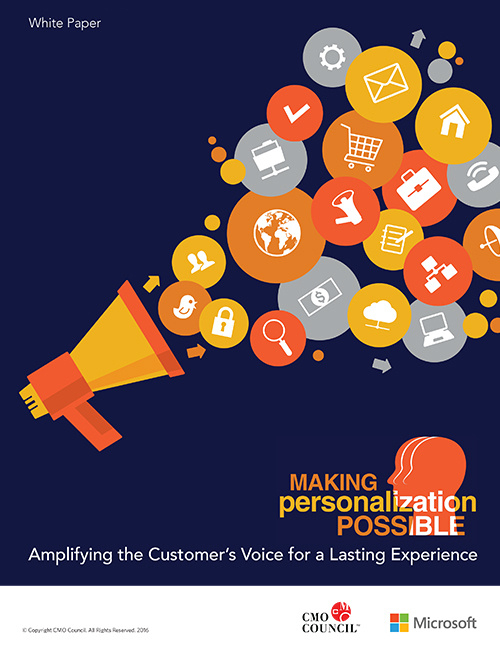 Amplifying the Customer's Voice for a Lasting Experience
Clicks, views, posts, shares and visits have taken a back seat to acquisition, retention and revenue growth as core measures of customer experience and engagement success, reports the Chief Marketing Officer (CMO) Council. According to a new study conducted with Microsoft Corp., marketers are de-prioritizing digital campaign metrics in favor of business-focused measurements that more directly tie customer experience to financial performance and business outcomes.
As leading executives continue to make personalization possible, they are actively seeking out tools and solutions that will amplify the customer's voice and turn that data into real, actionable intelligence. Among the top strategies for accelerating value in 2016, marketers will look to bolster analytics and lifecycle management strategies and platforms (65 percent), along with implementing personalization platforms (65 percent), engaging in comprehensive journey mapping (56 percent), and getting smarter about predictive analytics (52 percent).
The white paper—now available for download—includes input from 179 senior marketers, with 34 percent hailing from organizations with $1 billion (USD) in revenue or more, 48 percent from primarily B2B organizations, and 34 percent from hybrid (B2B2C) businesses.
*Microsoft may use your contact information to send you relevant content or offers. You can unsubscribe at any time. Microsoft Privacy Statement