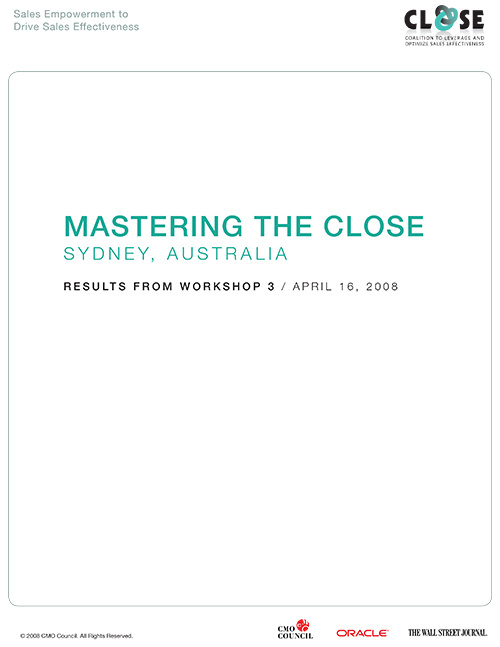 Event Wrap Up and Summary
The CLOSE workshop world tour found it's way to Sydney, Australia to learn about the challenges, successes and aspirations of sales and marketing executives. This stop of the global tour was intended to tap into the insights of the Asia Pacific. However, it is important to note that Australia is essentially a market in and of itself. It is a mature market, with distinct needs and requirements, and a deep connection to North American business units. The challenges voiced by many executives revolve around the disconnect and distance that separates the Australian market from the rest of the world. Isolation though, has bred a certain level of innovation that allows our aussie colleagues to demand creative solutions that are as unique as the marketplace. On April 16, 2008 20 executives gathered at Macquarie Graduate School of Management, just steps away from the famed Opera House, and in the heart of the Central Business District.

The conclave was charged with an enthusiasm of executives hungry to share their experiences with the world. The topic, as with the New York and London gathering, remains how do we, as sales and marketing executives, align and integrate these functions and departments in order to create an optimized, high-performance, business growth environment. As with previous sessions, the attendees were a mix of sales and marketing executives, however, unique to this group is that several executives had spent parts of their career in both sales and marketing, bringing a unique view on the relationship.