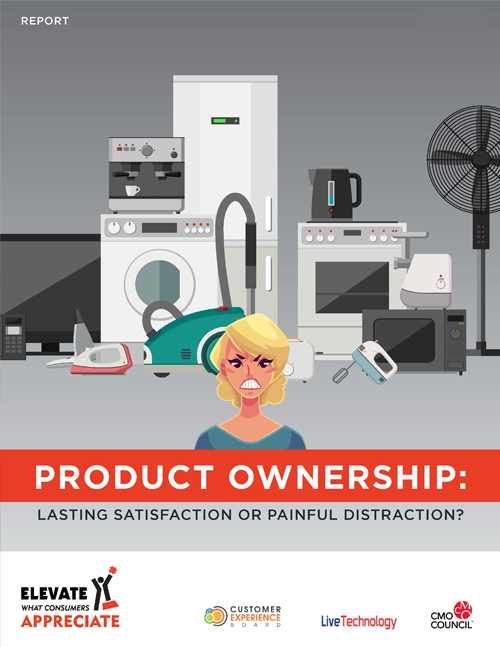 *Included with premium membership or library subscription
Lasting Satisfaction or Painful Distraction?
The ownership experience should be a critical brand differentiator and revenue generator for both manufacturers and retailers. Yet only 17 percent of North American consumers believe brands truly care about them after the point of purchase, which might be an accurate reflection of the importance that acquisition-centric marketers place on the aftermarket service and support that drive and solidify satisfaction, loyalty and advocacy.
This CMO Council report, titled "Product Ownership: Lasting Satisfaction or Painful Distraction" confirms that the aftermarket ownership experience remains dramatically under-served by most retailers and manufacturers in a landscape in which chief marketers are more focused on demand generation, customer acquisition and product sales—despite the fact that the aftermarket has shown to be a lucrative area of ongoing value creation, revenue growth, higher profit margin, relationship building, referral and customer enrichment.
Based on a poll of 2,000 consumers across North America, this is the first report in the "Elevate What Consumers Appreciate" program, in partnership with LiveTechnology. Brand marketers should share their own insights around the steps they are taking to elevate the ownership experience in this marketer survey: https://www.customerexperienceboard.org/research/survey/elevate-what-consumers-appreciate-survey.