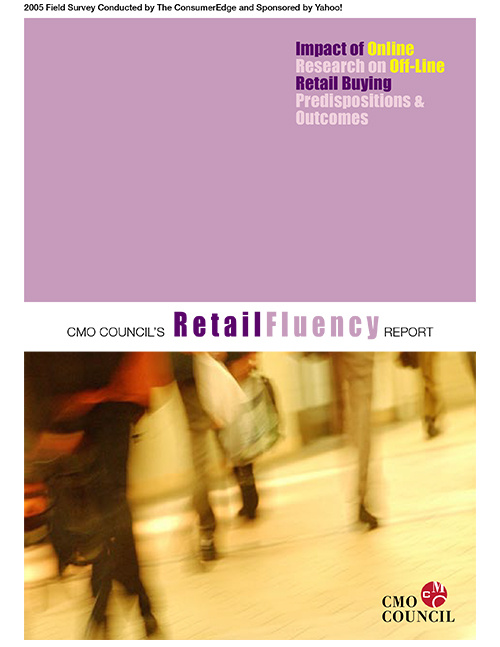 *Included with premium membership or library subscription
Impact of Online Research on Off-Line Retail Buying Predispositions & Outcomes
The CMO Council, in partnership with The ConsumerEdge Research Group, surveyed retail shoppers at three consumer electronics stores in four U.S. markets to study the impact of the Internet on in-store purchasing behavior. While the findings represent a single snapshot of consumer behavior, they paint a clear and dramatic picture of the shifting landscape of media influence. The Internet is climbing in usage and purchasing influence, magazines, TV and radio are being marginalized, and newspaper influence, while still strong, appears increasingly limited to coupon offers and sale notifications.

The survey of 322 post-purchase shoppers was conducted over the Dads and Grads season in 2005, at 28 stores in the BestBuy, CompUSA and Circuit City chains representing the Los Angeles, Detroit, Dallas and San Francisco Bay Area markets. Exiting shoppers were asked about the products they purchased, how their purchase was influenced by various information sources, how much time they spent researching their purchase, and whether or not their purchase decision was changed after they entered the store.

As might be expected, there were a wide variety of products represented among the surveyed purchases. However, the breakdown of data by product purchase had no differences to statistically impact on the rest of the behavioral data.