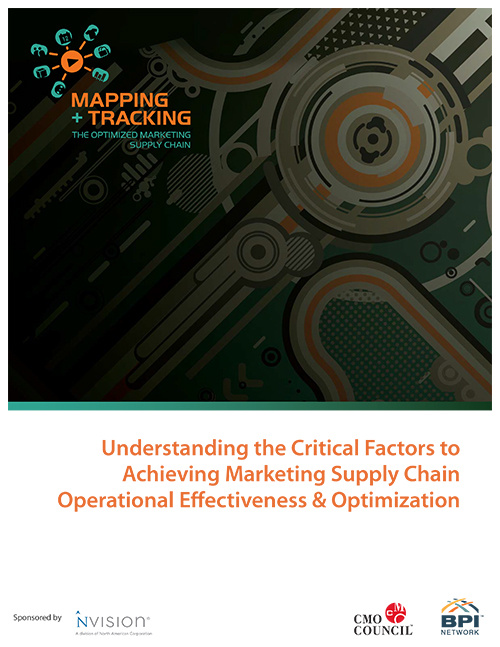 A Mapping + Tracking The Optimized Marketing Supply Chain Initiative
There is an epidemic that threatens the optimized Marketing Supply Chain. As Marketers seek to provide the most timely, fresh and of-the-moment content to customers and channel alike, old, over-ordered or un-utilized materials tend to be stored, destroyed or ignored, left to sit an occupy costly space in offices to warehouses. High levels of waste can generally be attributed to limited access to material utilization, a lack of visibility into the operational process, and a general lack of forecasting and operational rigor. All of these factors combine to create an epidemic of waste that can be summed up most accurately as Obsolescence.

Marketers must begin to look at these individual symptoms of ineffi ciency with the Marketing Supply Chain in order to optimize budget allocation, operational management and even the delivery of customer experience. Obsolescence is one of the most serious challenges to Marketing Operations as it looks to undermine budget and operations. The good news is that a streamlined Marketing Supply Chain is possible. The challenge is that in these critical times where customer engagement is top of mindand budgets are restricting how far and wide programs can potentially reach. Waste and unchecked obsolescence are no longer issues left to other departments or hidden in a marketing closet.