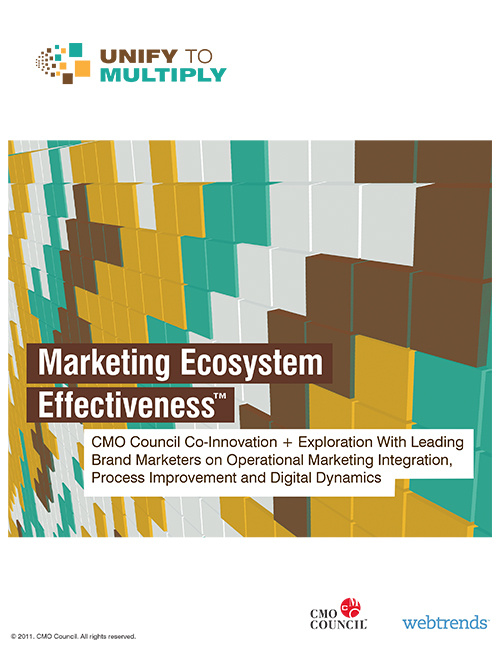 *Included with premium membership or library subscription
Marketing Ecosystem Effectiveness
Marketing must embrace the mandate for real-time adaptive marketing. Yet, in today's increasingly complex, distributed and digitally driven marketing ecosystem global marketers are being challenged to better integrate and manage data, best of breed solutions, creative resources, brand assets and go-to-market functions. Becoming more agile at exploiting opportunities, pre-empting issues or threats, as well as leveraging new consumer shifts, trends and news developments makes "on-demand" marketing planning and operational flexibility a critical competency in brand marketing organizations.

The advent of real-time, adaptive marketing model is clearly a requirement and a pressing agenda issue for CMOs. Marketers, however, have a tendency to focus on immediate tactical needs and comfort zone activities to the detriment of longer term, higher value strategic initiatives. This can change with a more data-centric view of the customer, combined with deeper thinking about where digital marketing execution systems can enable business performance innovation, revenue optimization and agile operational efficiency, as well as customer retention and gratification.

The Unfiy to Multiply strategic brief shares perspectives of how leading brands are dealing with the complexity of the ecosystem and identifies the top 10 ways marketers can add value by embracing real-time, adaptive marketing models and practices.