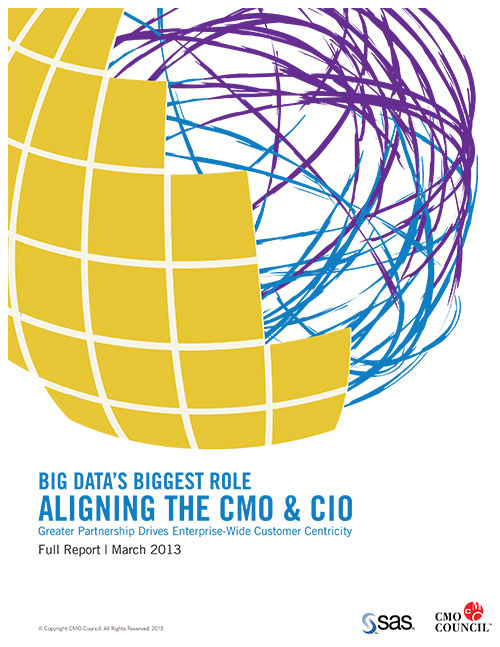 Greater Partnership Drives Enterprise-Wide Customer Centricity
The CMO Council, along with partner SAS, set out to better understand the key challenges, opportunities and requirements that both CMOs and CIOs were facing in their journey to develop a more customer-centric enterprise. Through the research, what has emerged is a picture of alignment around platform and technology, as well as the opportunity for even deeper connections around data and customer intelligence. Ultimately, there is significant room to improve the organization's ability to capitalize on the opportunities that will emerge from a more customer-centric approach.
In this report are findings from an online audit of 237 senior marketers and 211 senior IT executives. Also included are best-practice profiles from 33 marketing and IT executives from brands including AIG Bank, Allianz Life Insurance, American Cancer Society, Brown-Forman, Citi, Commercial Metals Company, Conde Nast, Farmers Insurance Group, First American Financial, First Tech Federal Credit Union, Four Seasons Hotels & Resorts, GM, Hilton Worldwide, Intrawest, Lockheed Martin, Magnolia Federal Credit Union, Nexxo Financial Corporation, Omnicom Media Group, Outrigger Hotels & Resorts, Panasonic, PNC Financial Services, Rady Children's Hospital–San Diego, Silicon Valley Bank, Transamerica Insurance & Investment Group, Wyndham Hotels Group and WellPoint.