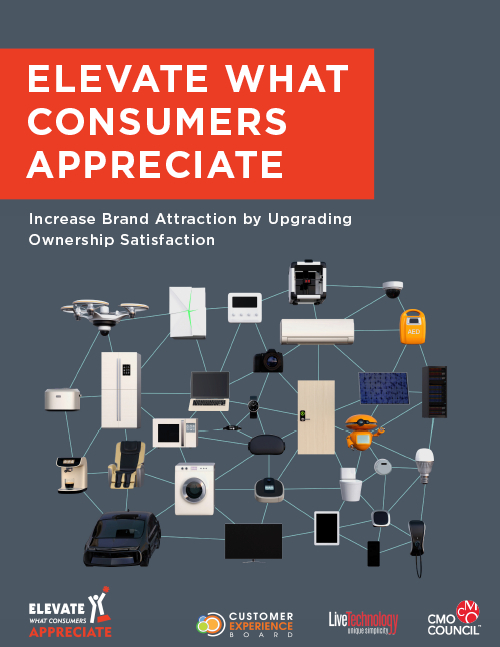 *Included with premium membership or library subscription
Increase Brand Attraction by Upgrading Ownership Satisfaction
To date, the customer experience mandate of the CMO has focused on creating an experience that will surprise and delight their consumers up to the point of purchase; unfortunately, the aftermarket for far too many is an afterthought. Yet with the rise of IoT-enabled service-oriented business models, and a savvy consumer that can quickly share feedback through any number of social channels about their experience, manufacturers and retailers alike must make the aftermarket a priority.
Indeed, in a recently-released consumer report on this topic, entitled "Product Ownership: Lasting Satisfaction or Painful Distraction?" we discovered that consumers feel brands mostly forget about them after they have purchased a product. They feel most manufacturers and retailers aim only to sell a product, at which time they might arm consumers with a stack of paperwork (that will likely be shoved in a drawer somewhere) and a 1-800 number to call if something goes wrong.
For CMOs looking to create a superior customer journey, there is still much to be done after the point customers go home with their product to ensure they feel they are still getting that superior experience. This imperative must extend beyond the individual retailer or manufacturer to the entire ecosystem that is involved in delivering superior customer service, whether that includes servicing, parts replacement or even tips and tricks.
This report, titled "Elevate What Consumers Appreciate," reveals perspectives from 150 manufacturer and retailer marketers around what steps they are taking, and where they are missing the mark, when it comes to the aftermarket. The report also highlights perspectives from 18 marketing executives from brands such as Ace Hardware, Whirlpool, Wally Sears, Electrolux, Microsoft, Kia Motors, and others.