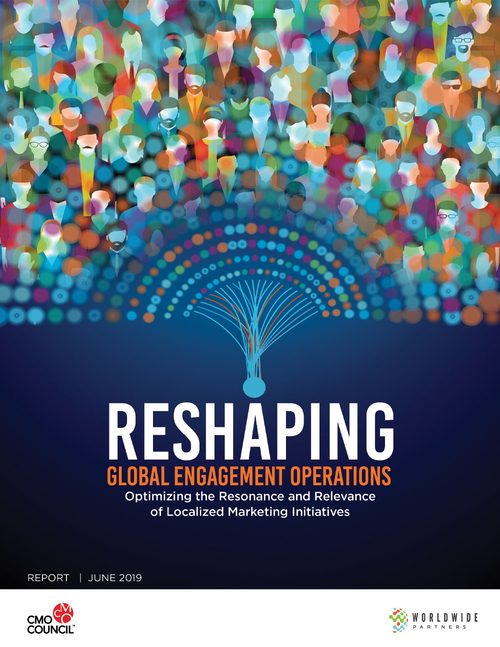 *Included with premium membership or library subscription
Optimizing the Resonance and Relevance of Localized Marketing Initiatives
Today's digitally-connected consumer seeks more localized, personalized experiences that are relevant to their own cultural context and situation. Yet 73 percent of global marketers feel only partially prepared to deliver on those expectations.
This report, produced in partnership with Worldwide Partners, reveals that marketing operational structures may actually be keeping the customer and brand apart. Indeed, global marketers are struggling in a battle between the efficiency of centralization and the effectiveness of localization, causing them to re-think their current mar-ops strategies.
Key topics uncovered in the research include:
Top areas of strategic focus for the global marketing organization
CMO confidence in localization capabilities across the organization
Key challenges and roadblocks to localization and engagement success
Steps for agency-brand evolution including key responsibilities of the CMO in reshaping the relationship and new expectations for agency partners
Detailed overview of internal versus external resource shifts, allocations and alignments
The full report includes all detailed analysis of findings, 27 detailed charts and graphs, deep-dive interviews with brand leaders, and two exclusive in-depth read-outs on agency partnership evolution and a breakdown of regional views and differences only available in the comprehensive report.