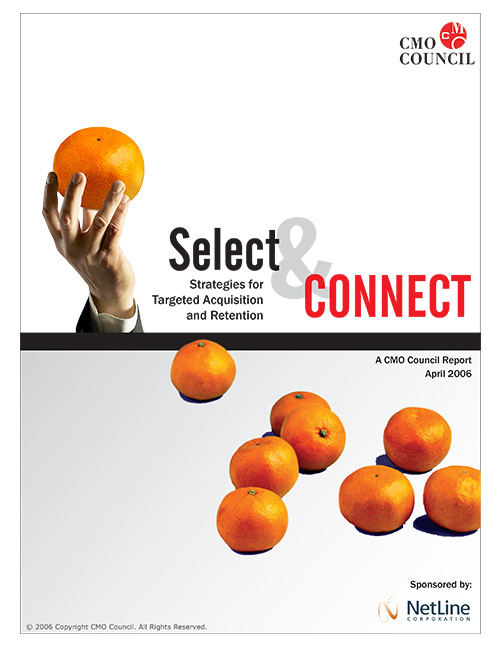 Strategies for Targeted Acquisition and Retention
Select & Connect: Strategies for Targeted Acquisition and Retention explores the strategies, processes and methodologies to achieve maximum customer acquisition, retention and profitability. It also examines the marketing organization's level of customer knowledge, as well as the segmentation approaches used to target and acquire top prospects and profitable opportunities. By revealing pain points and best practices, our goal is to help marketers better define and implement optimal customer-centric programs.

Select & Connect data shows that marketers are adopting, albeit slowly, customer-centric programs and strategies. But there's a significant disconnect with the realities that drive customer initiatives. Just how wide is this chasm? Select & Connect shows that marketers are not in significant contact with customers; customer advisory boards and links with online communities are rare; they don't adequately rank and grade leads; there is no consistent monitoring of churn and retention; and they place a heavy reliance on sales to drive customer conversations. To top it off, miss-alignment and competition with other departments presents a signifcant barrier to effective customer engagement. But Select & Connect data also found what is working.