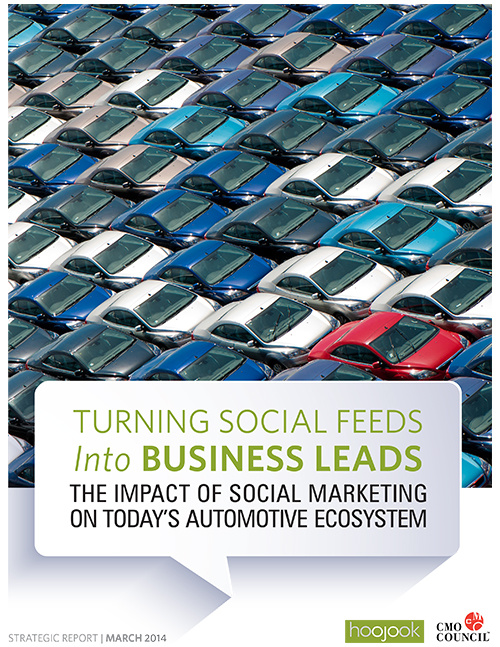 "Turning Social Feeds Into Business Leads," developed in partnership with hoojook, Inc., argues that the auto industry ecosystem should do more to leverage social media as a platform for driving business leads into sales pipelines. Based on interviews with senior marketers and executives from auto manufacturers, dealer networks, aftermarket service providers and B2B automotive solutions companies such as Autonation, Costco Auto Program, Nissan, Cadillac, Car MD, KIA, Aspen, Express Oil Change, Mazda, Snap-on, Dealertrack and DME Automotive, the report finds that senior marketers are highly interested in developing and using new systems and processes to leverage social more effectively for lead acquisition and acceleration. However, most say they are only in the very early stages of the process and often express caution about possible brand reputation issues when overtly marketing to individuals on social.
This report contains a number of valuable and actionable insights, including:
Campaigns focused on cars generate much higher consumer engagement and interest than other social media initiatives, such as charitable causes.
Reputation management is seen as potentially the most critical aspect of social marketing, with consumer-generated content and commentary having a huge influence on purchasing decisions.
Marketers view social as most effective when integrated with other channels and marketing approaches; many view social analytics as an invaluable source of insight for other digital and offline marketing efforts.