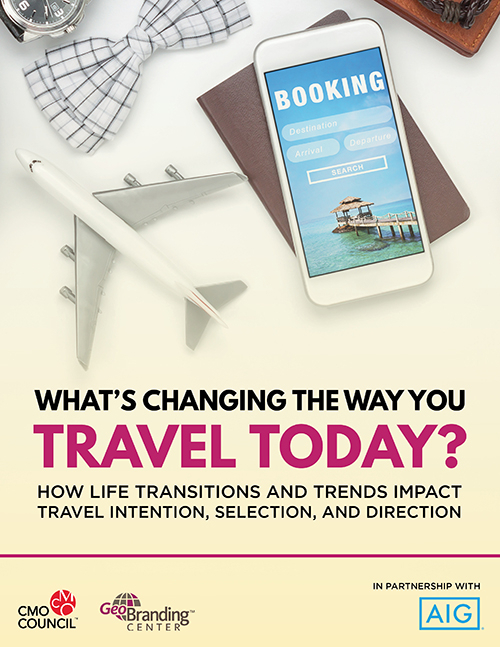 *Included with premium membership or library subscription
How Life Transitions and Trends Impact Travel Intention, Selection, and Direction
Travel and tourism generated $1.6 trillion in bookings in 2017 and now accounts for over 10 percent of global GDP. Technology and service innovations are making it easier and cheaper to discover, reach and enjoy travel destinations. Destination marketers seeking to capitalize on the surge of global travel take note: travelers are still looking for the best deal, but also want a personalized experience.
When planning their next journey, it's still all about "me" as travelers are less likely to be influenced by the social crowd and more moved by their own special interests, safety and security, according to new research conducted by the CMO Council in Q3 of 2018.
Beliefs, values and interests are influencing where, how and why people travel. While deals, specials and promotions are driving desire and action, visually enriched and personalized digital content channels are making travel experiences more alluring and exciting. Engaging with travelers by offering them specialized deals and promotions to the areas that best align with their interests will get them to book.
Given the significance of personalized engagement, this report uncovers travel 'personas', including the smart, well-informed planner (31 percent), relaxed nomad – easygoing and flexible (25 percent), and deal seeker on a budget (22 percent). These personas each have their own influencers, deterrents, and innovations they are most likely to leverage when booking. Speaking the language of the traveler will aid destination marketers on their quest to bring travelers to their unique destination.