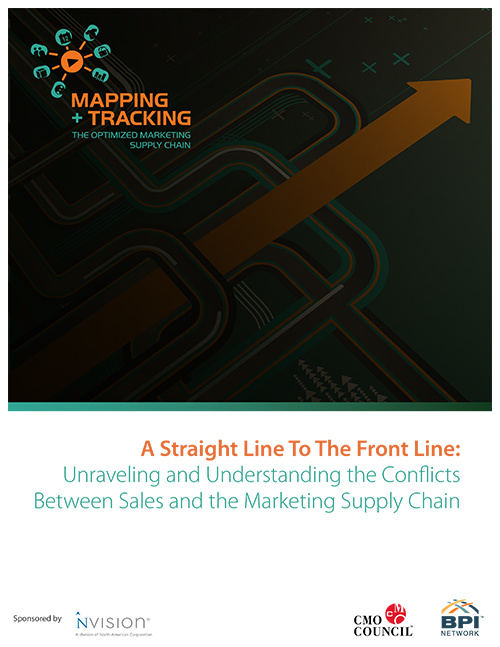 Unraveling and Understanding the Conflicts Between Sales and the Marketing Supply Chain
Growth and recovery are at the top of every executive's to-do list as we head into a postrecessionary economy. This mandate has placed increasing pressure on Sales to close business and on Marketing to fill the pipeline with quality leads. And while the riff between Marketing and Sales is certainly nothing new, it has taken on a new direction that has a direct and immediate impact on the bottom line. Rather than being a battle over content that doesn't meet Sales' needs, or a lack of compelling or relevant tools to help enhance the sales process, the riff between old rivals is being refueled in the breakdown of the Marketing Supply Chain.

The conflict between the groups has traditionally centered on unmet needs. Marketing does not understand the needs of sales, failing to create Sales tools that enable the buying process; Sales does not value the marketing materials designed to bolster demand. It was once estimated that a sales executive might spend 30-50 hours per month searching for information and re-creating customer-facing content.

But according to the sales executives surveyed as part of the Mapping + Tracking the Marketing Supply Chain initiative, the issue stems more from failed interactions with the Marketing Supply Chain that negatively affect how Sales accesses the materials that are an integral part of the sales process. While they believe the tools created by marketing are critical to the sales process, materials arrive too late, are not ready in time for product launches, arrive in poor condition or are simply not available or out of stock when they are most needed. In short, it is the delivery and fulfillment of materials, not the message that is fueling the fire of discontent.