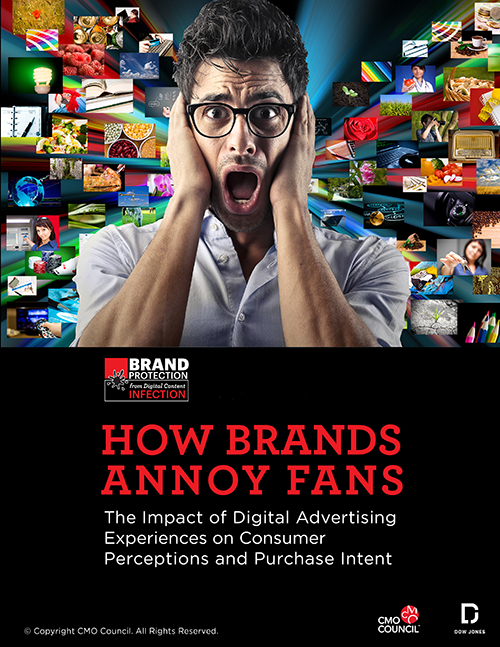 *Included with premium membership or library subscription
The Impact of Digital Advertising Experiences on Consumer Perceptions and Purchase Intent
While it is estimated that programmatic advertising will account for 80 percent of all digital display advertising in 2017, recent headlines and pronouncements by leading brand marketers highlight the significant limitations in this technology-driven ad buying process, with image-sensitive brands appearing next to offensive or irrelevant digital and video content.
As a result of this digital content infection, nearly half of all consumers indicate they would rethink purchasing from brands, or even boycott products, if the ads from these brands appeared alongside digital content that offended them, reveals a new CMO Council study on "How Brands Annoy Fans."
The report assesses the impact of digital advertising experiences on consumer perceptions and purchase intent. It demonstrates that consumers are punishing even preferred brands if they don't use trusted media platforms or take active steps to control the integrity of their ad environments. It highlights consumer responses to brand misplacement in crowdsourced content channels, as well as their level of satisfaction with digital advertising effectiveness, economics, efficiency and transparency.
Based on a poll of 2,000 consumers across North America and the UK, this is the first report in the "Brand Protection from Digital Content Infection" program, in partnership with Dow Jones. You can view the second report here: https://cmocouncil.org/thought-leadership/reports/brand-protection-from-digital-content-infection