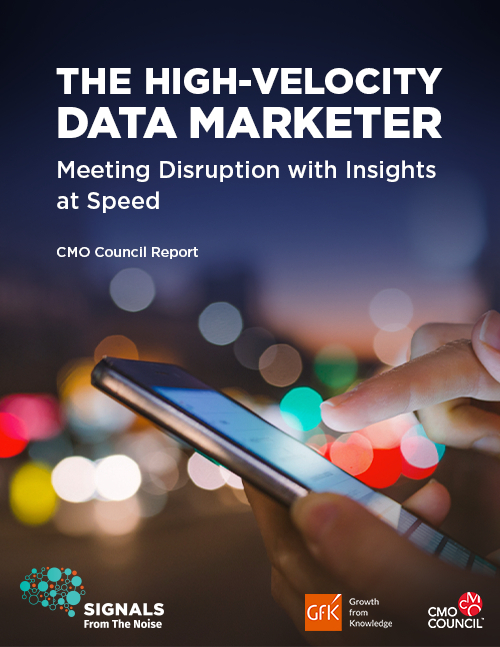 Meeting disruption with insights at speed
CMOs have entered a new era of high-velocity data marketing to spot sudden disruptions in market and customer behavior. We're talking about the speed of acquiring real-time, relevant data signals. Speed of generating data insights. Speed of closing the gap between data and insights, insights and action.
Yet two-thirds of marketing leaders are only moderately confident (or worse) in their data, analytics and insights systems. This means a big opportunity lies ahead for CMOs who have the wherewithal to climb the high-velocity data marketing maturity curve.
This study by the Chief Marketing Officer Council, in partnership with GfK, takes a close look at high-velocity data marketing capabilities and how to achieve them. We examine what marketers are planning over the next 12 months, what hurdles lie in the way, what capabilities gaps exist between top and bottom performers, what are the regional differences.
Our findings are based on a survey of over 300 marketing leaders across industries and geographies. Additionally, we conducted nearly a dozen in-depth interviews with executives from companies such as Capital Group, Vodafone, Hitachi, Al Safi Danone, Kyndryl, Fisher Funds, Nesnah Ventures, NCCI, Blue Buffalo, and Dolmen Group.