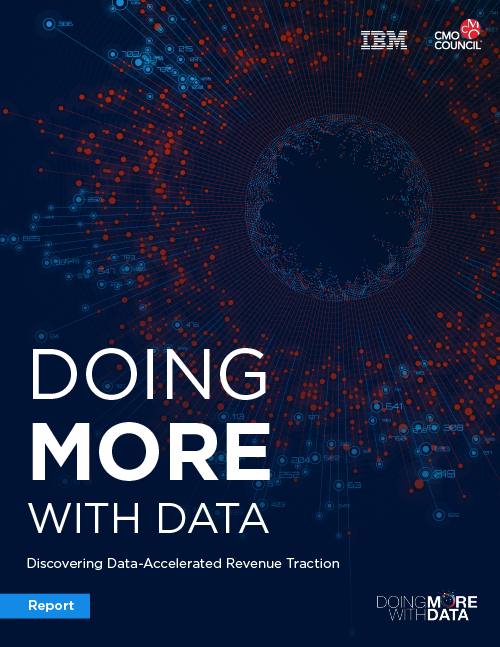 *Included with premium membership or library subscription
Discovering Data-Accelerated Revenue Traction
Charged with the mandate of elevating customer experience, marketers increasingly look to data to better engage with customers and identify new opportunities. Yet previous CMO Council research highlights that marketers admit their organizations could do more to transform the data supply chain to allow them to do more with internal data assets.
To ignite real change, data needs to move beyond the marketing silo. The three critical functions as it relates to customer engagement: marketing, commerce and supply chain, must work together to elevate data strategies. The report highlights the challenges facing each of these functions when it comes to how data strategies are being challenged and transformed. It also highlights how each individual function aligns, and sometimes clashes, in their perceptions of where and how each function must collaborate around the customer.
The research stems from a survey of 165 marketing, commerce and supply chain executives, as well as 12 deep-dive interviews with executives who reveal the ways they are rethinking their engagement strategies through smarter use of data insights. Those executives hail from brands like AT&T, The Body Shop, Samsonite, REI, Ryder, TD Bank, Cabela's and Nordstrom.
Areas of exploration covered in this research include:
The roles each of these functions play when it comes to developing, delivering and continuously improving upon profitable customer engagements
The level of cross-functional alignment across all customer experience stakeholders, and ways organizations are ensuring cross-functional participation across the data value chain
The types of data sources that functional groups are able to extract important insights from, and those sources of data that are still out of reach
The greatest obstacles organizations face as they attempt to realize greater value from internal data assets, and what holds these organizations back from realizing the full potential of data
The technology deployment roadmaps organizations are seeking to implement over the next year to improve data utilization across the organization